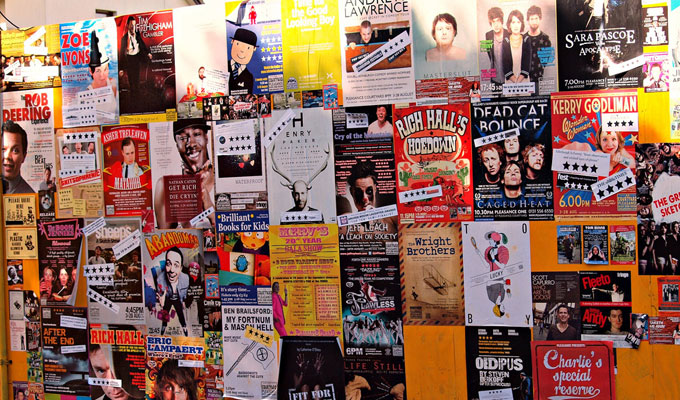 Edinburgh Fringe moves ahead
The Edinburgh Fringe is opening for show registrations from May 5.
However, there remain major question marks over what social distancing rules might be in place in August that would determine whether most of the venues would be viable or not.
The Edinburgh Festival Fringe Society which co-ordinates the festival, says it will allow artists and venues will be able to register Fringe shows right up until the end of the festival, which runs from August 6 to 31
Tickets will go on sale for audiences in early summer, although a precise date has not been announced.
The Scottish government has yet to give details of its roadmap out of lockdown stretching into the summer.
Yesterday, First Minister Nicola Sturgeon announced some relaxation of restrictions, allowing six people from six households to meet outdoors from Friday and the lifting of a travel ban. And from April 26 pubs, cafes and restaurants will be allowed to open outdoor spaces subject to the same rules.
She said: she 'hoped' Scotland could reach Level 0 in late June. That allows ten people from four households to meet at a bar indoors, and for a maximum capacity for an indoors event to be 400 subject to social distancing.
But Sturgeon added: 'Reaching Level 0 is not the extent of our ambitions, and later on in the summer as the number of people who have been vaccinated increases further we hope that a level of normality well beyond Level 0 will become possible.'
The Edinburgh Fringe have said that 'a range of scenarios are being prepared for, from socially distanced live events to digital offerings'. That includes the launch of a Fringe Player, an online platform to put audiences and artists together.
Shona McCarthy, chief executive of the Edinburgh Festival Fringe Society, said: 'We're delighted to be able to open registration for 2021. Of course, we're still very much in planning mode as we await further updates from the Scottish Government, but this feels like a hugely positive step in the right direction.
'Through the work being created across the various digital platforms, including the Fringe Player, artists have a brilliant opportunity to reach audiences and communities all over the world. I look forward to seeing how our Fringe creatives use these platforms in 2021 and beyond.'
However, venue bosses remained more cautious.
Karen Koren, artistic director of the Gilded Balloon, said: 'We are working with our performer and venue colleague networks to determine what will be possible.
'We know that social distancing at 2 metres will make it impossible to present shows so until we are allowed audiences distanced at 1 metres we are unable to confirm what's possible.
'We are in constant communication with performers producers and agents, updating them as much as we can. We are determined to present a programme of live performances this summer in Edinburgh and will continue to work with artists and our venues colleagues to help inform the government and the Fringe Society of what will be possible with restrictions.
'We believe it is essential that there is a live Fringe this year in Edinburgh in order to rebuild our business.'
And Anthony Alderson of the Pleasance said: ' While we remain optimistic that the Pleasance can deliver some form of programme in Edinburgh this summer, it remains impossible to make any firm plans until we have the exact limitations on social distancing, capacity restrictions and Covid-19 regulations and therefore our programme must remain on hold until we have that clarity.
'While positivity is important and the situation appears to be progressing in the right direction, we don't want to give false hope to artists or audiences.'
Among other move, the Fringe Society has cut registration fees by 25 per cent, but stresses this is for 2021 only, and the higher rates for later registrations will be suspended. And they will offer refunds if shows need to be pulled before tickets go on sale.
But there will be no printed programme this year, only the edfringe.com website and app.
The news comes after the Edinburgh International Festival yesterday announced that it would be going ahead, with custom-built venues in three sites across the city.
Published: 14 Apr 2021
What do you think?