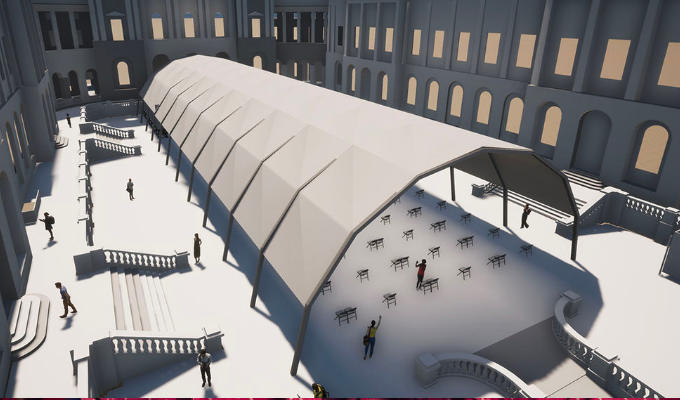 Edinburgh International Festival WILL go ahead
There will be at least some festival shows in Edinburgh this summer.
While the future of the Fringe remains in limbo, the International Festival has announced that it will be building bespoke, temporary outdoor pavilions to allow socially distanced events to take place.
It will be building temporary outdoor pavilions in Edinburgh Park, the University of Edinburgh's Old College Quad (see artists' impression above) and one other location yet to be disclosed.
Organisers say the sites will feature covered concert stages and socially distanced seating for audiences to safely enjoy live music, opera and theatre.
A spokesman said the festival was working with the Scottish Government, City of Edinburgh Council and others to implement appropriate Covid safety measures. These will include shorter performances with no intervals, physical distancing, regular cleaning and contactless ticketing.
Full details of the programme will be announced on Wednesday June 2.
Meanwhile, tickets are also on sale for the military tattoo in Edinburgh Castle from August 6 to 28, with more limited seating than before.
Fringe venues are less certain about returning. Speaking to The Scotsman yesterday, operators complained that the uncertainty about what social distancing restrictions might be in place, especially indoors. Many said it would be economically unviable to run venues if restrictions are in place.
But Karen Koren of the Gilded Balloon said she expected confirmation of the rules by the end of May, saying: 'We remain positive and hopeful there will be a Fringe in 2021' - albeit 'a much smaller Fringe than usual'.
Published: 13 Apr 2021
What do you think?