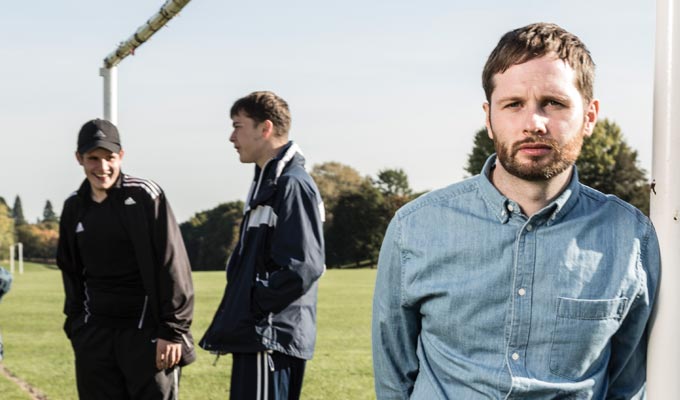 Filming starts on Ladhood series 2
Filming has started on the second series of Ladhood, the coming-of-age comedy from Liam Williams.
Six 25-minute episodes are being shot, again featuring the comedian looking back on his teenage years to explore how it affected his notions of masculinity.
Oscar Kennedy returns to play the younger Liam in the Leeds suburb of Garforth in the early Noughties, with Samuel Bottomley, Aqib Khan and Shaun Thomas playing his school pals.
The new series will cover GCSE results, driving tests, break ups and the lads' first big night out in town. As in series one, their adventures run in parallel with scenes from the life of present-day Liam.
Williams, who also stars in BBC Three hit Pls Like, said: 'The BBC have asked me to tell you how excited I am to be filming series two of Ladhood so it's lucky that I am, in fact, very excited. They've also asked me to say a bit about what we can expect from series two, to which I'd say it'll be like series one but all the characters are a bit older.'
BBC commissioning editor Gregor Sharp, added: 'Liam is an exceptional talent and in Ladhood he's crafted a series that's an ingenious combination of both personal reflection on his own Yorkshire youth and an exploration of those universal rites of passage that everyone has to navigate.
'With the brilliant cast from the first series returning we can't wait to see how the next chapter of the story unfolds.'
Ladhood, which started as a Radio 4 series, launched in December 2019 on BBC Three, with the second series announced in February last year.
The show is available on iPlayer.
Ladhood production credits
Made by: BBC Studios
Written by: Liam Williams
Producer: Joe Nunnery
Director: Jonathan Schey
Executive producers: Gareth Edwards and Josh Cole, Liam Williams
Commissioned by: Shane Allen, BBC controller of comedy commissioning and Fiona Campbell, controller of BBC Three
Commissioning editor: Gregor Sharp.
Published: 13 Apr 2021
What do you think?