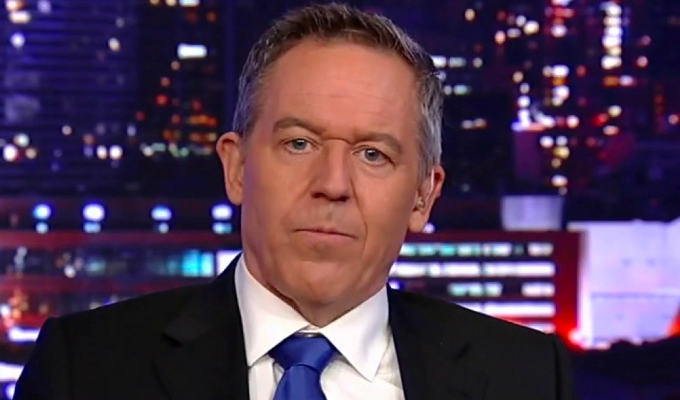 Fox News launches a right-wing comedy show
Fox News has launched a new comedy show billed as an alternative to left-wing shows from the likes of Stephen Colbert and John Oliver.
The nightly show from Greg Gutfeld launched at 11pm last night with the tag line: 'Cancel culture just got canceled'.
One of his opening jokes was: 'If you ended up here because you thought your TV was your microwave oven… it's good to see you Mr President.'
And he took aim at his rivals, saying: 'As for those late night shows we're supposed to compete against, why bother? Who do they offend? The only time Stephen Colbert ruffles feathers is in a pillow fight. The definition of risk to Kimmel is dehydration from crying too much. Fallon, that guy fawns more than a herd of deer. And I heard Seth Meyers and Trevor Noah ran off to be obscure together.'
With no sense of irony, given his slot on Rupert Murdoch's controversial channel, he took aim at the 'news media' saying: 'The only way they make money is by making people hate each other.'
The launch comes as broadcasters in the UK, especially the BBC, are under pressure from the government and press to address the left-wing bias in their comedy shows.
However, the left-wingers Fox News's Gutfeld! was targeting did not appear too troubled by the new programme, mocking its leaden attempts at jokes and its host's awkward way of setting up a segment:
You could literally grab someone off the street at random and they could write funnier material than this https://t.co/QxeiXPV9ow

— Mehdi Hasan (@mehdirhasan) April 6, 2021
This is how Gutfeld framed a discussion about Amazon pic.twitter.com/vMtdHmjnQq

— Aaron Rupar (@atrupar) April 6, 2021
reminder that this new Fox News show (Gutfeld!) is supposed to be funny pic.twitter.com/8ruUbiktyM

— Aaron Rupar (@atrupar) April 6, 2021
Published: 6 Apr 2021
What do you think?