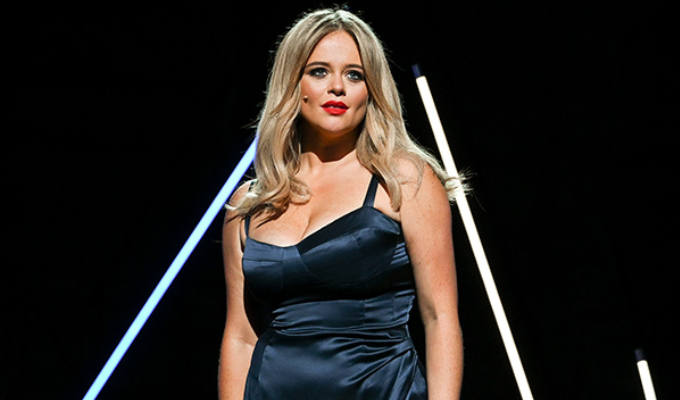 ITV2 doubles down on Emily Atack
ITV2 has commissioned a second series of Emily Atack's comedy sketch show.
Six more 45-minute episodes will air later this year, after the broadcaster boasted that the show achieved 'the biggest audience for a female-led stand-up show in 2020'.
However it also appears to be the only female-led stand-up show in 2020.
Atack said: 'I had the best time making and filming this series. It was the stuff of dreams and I am ecstatic to get to do it again.
'I have so many more sketches and impressions that I can't wait to share with the viewers, my family on the other hand may want to cover their ears (again). If they thought the last series was bum-clenchingly raucous, wait until they see this series. It's going to be a hoot.'
Atack was a regular in The Inbetweeners but came to fame by taking part in I'm a Celebrity...Get Me Out of Here! in 2018, after which she started her stand-up career with a nationwide tour and the commission of the first series of her ITV2 show.
It mixed monologues with sketches about life as a young woman and impersonations of the likes of Stacey Solomon and Gemma Collins.
The show has a rating of 2.4 out of ten on IMDB, and last year scored two-star reviews from The List, which called it 'passionate but pedestrian' and Chortle, which said Atack was 'good company [but] shame about the material' and called on broadcasters to give stand-up shows to actual stand-ups rather than celebrities.
ITV's head of digital channels Paul Mortimer called Atack 'an exceptional talent whose versatility as a comedy actress and hilariously self-deprecating sense of humour resonated with our viewers'.
The Emily Atack Show production credits
Made by: Monkey
Series producer: Avril Spary
Executive producers: Andy Charles Smith and David Granger
Commissioning editor: Peter Tierney for ITV2
Published: 28 Mar 2021
What do you think?