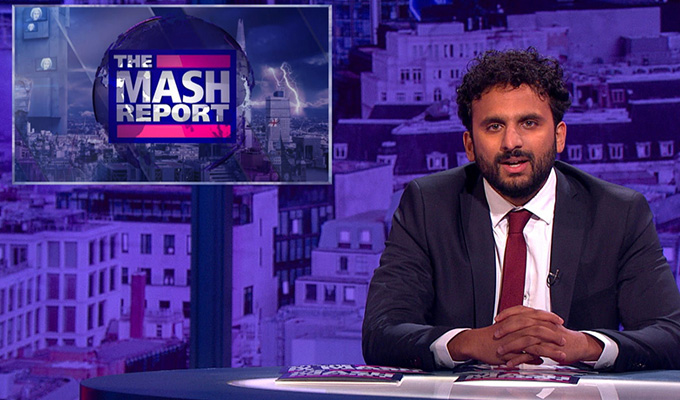 Mash Report axed
The BBC won't be making any more episode of The Mash Report.
News that the Nish Kumar-fronted show has been dropped has been greeted with glee by right-wing newspapers who considered it a hotbed of liberal, anti-Brexit bias.
New director-general Tim Davie, a former local Conservative party chairman, has pledged to make impartiality across the Corporation one of his biggest priorities.
However, Davie later branded claims that he was targetting comedy shows as 'nonsense', saying: 'Comedy has always been poking at authority. If a particular government is in charge you probably do get a bit more edge against those in power, that's how it works. And, by the way, I want good satire on the BBC. I like being adventurous.'
The Mash Report started on BBC Two in 2017 and has run for four series. It also featured Ellie Taylor and Steve N Allen as spoof newsreaders, and a wide range of comedians as commentators including Rachel Parris, Andrew Hunter Murray, Ahir Shah, and Tory-supporting Geoff Norcott.
Critics of the show included journalist Andrew Neil, one of the faces of the new GB News channel, who described it as 'self-satisfied, self-adulatory, unchallenged left-wing propaganda'.
A BBC spokesperson told The Sun: 'We are very proud of The Mash Report but in order to make room for new comedy shows we sometimes have to make difficult decisions, and it won't be returning.
'We would like to thank all those involved in four brilliant series and hope to work with Nish Kumar, Rachel Parris and the team in the future.'
The decision was greeted with dismay among left-leaning comics, and glee among right-wingers.
Richard Herring tweeted: 'The Mash Report was the best UK topical comedy show for decades and also ironically gave right wing comic @GeoffNorcott a regular platform to do his stuff. Very bad decision to axe it.'
Emma Kennedy added: 'I hope @Channel4 snap The Mash Report up. Great show led by brilliant talents. What a loss to the BBC.'
Sooz Kempner said: 'The Mash Report has been cancelled and I expect the free-speech campaigners to be outraged at this axing of a show any moment now. After all, they think it is TERRIBLE to be cancelled no matter what the political opinions are. It's their whole thing.'
But actor turned anti-'woke' campaigner Laurence Fox celebrated by saying: 'Defund virtue signalling.'
• Nish Kumar is releasing his last two tour shows from 2016 and 2019 as comedy albums next week. The two-part It's In Your Nature To Destroy Yourselves will be available from the usual digital outlets.
Published: 12 Mar 2021
What do you think?