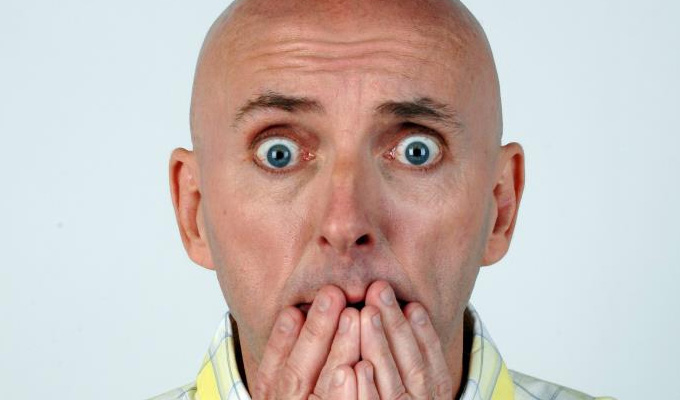 Lee Hurst mocked over 'anti-mask' letter
Lee Hurst has been mocked on Twitter after putting his name to a letter complaining that secondary school pupils wear masks in schools when they reopen on Monday.
The comic is one of the signatories to a open letter to Education Secretary Gavin Williamson demanding to know 'the scientific evidence which makes this measure necessary'.
Although the letter has been signed by some medics, it is the 'public figures' who have attracted ridicule.
The list includes anti-woke actor Laurence Fox, who describes himself as a 'politician' on the letter, and such former TV stalwarts as Richard Madeley, Anthea Turner, Sue Cook and Gillian McKeith alongside prominent anti-maskers such as Peter Hitchens, Julia Hartley-Brewer, Lord Sumption and Mark Dolan.
On the letter, Hurst – a former team captain on TV sports quiz They Think It's All Over from 1995 to 1998 – calls himself a 'Not Allowed To Work Comedian'.
But the comic, who has a three-year-old son, was widely ridiculed on Twitter.
I can just imagine the quality of medics and academics that are happy to be signatories on the same letter as Anthea Turner and Lee Hurst.

— Lulu14 💙 (@lulumr) March 5, 2021
"I'm afraid we're going to have to rethink everything..."
"It's...it's not..."
"Yes God damn it, Lee Hurst's signed a letter." pic.twitter.com/629rHPOHB8

— John Usher (@jwusher) March 5, 2021
Mid-90s shit comedian Lee Hurst and Andy Murray's warm up act Tim Henman have joined forces with rabidly extremist hard-right hack Julia Hartley-Brewer and someone from the olden days known mainly for selling her wedding for a chocolate bar pic.twitter.com/2ZMrYRYN94

— Will Black (@WillBlackWriter) March 5, 2021
Anthea Turner. Lee Hurst. Tim Henman. Last time I saw a list of has-beens like this they were sat in a jungle with Ant and Dec. https://t.co/iydu95uBrF

— Phil: Championship Edition 💙 (@Phil_UltEd) March 6, 2021
Lee Hurst, Anthea Turner, Sue Cook, Tim Henman. If you're interested in a list of people who were not quite good enough at their chosen profession in the 90s this is gold. pic.twitter.com/QElZHEdPKk

— Harry Dennison (@HarryDennison5) March 6, 2021
Lord Sumption is surely questioning his life choices after ending up on a signatory list with Sue Cook, Matt Le Tissier and Lee Hurst. https://t.co/qlF9wd3wEQ

— Sam Freedman (@Samfr) March 6, 2021
That 'celebrity' letter denouncing face masks for pupils in schools gives off the pungent stink of failure because the vast majority of signatories are serial failures, third-raters or irrelevant has-beens. And then there are the never have-beens. And some loser named Lee Hurst.

— Brexit Buster (@BrexitBuster) March 6, 2021
Hurst has previously tweeted that pupils being asked to wear masks are 'treated like hostages' and that they have been imposed to spread 'fear and control'.
And in response to an article saying that some public spaces may only be open to those who have had a Covid vaccination, he tweeted: 'Seig Heil anyone?'
Published: 6 Mar 2021
What do you think?