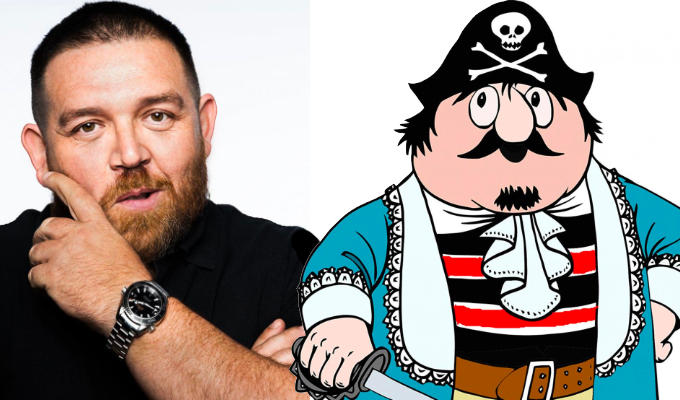 Nick Frost's Captain Pugwash film 'will never get made'
The Captain Pugwash film starring Nick Frost in will never get made, the actor has said.
In 2017, it was announced that the Shaun of the Dead star would play the titular pirate in a live-action version of the classic children's books and TV series in 2017.
However, Nick revealed financing the film had been problematic.
'Forget it - it will never be made,' he said. 'I was excited as anyone that there was a chance for a Pugwash film. It looked great and the script was good and they were going to do it all - they were going to build a ship - but it just went away.
'Every now and again it comes up saying, "We got the money, we've been financed!", but it's not. It was one of these things where they put your name on it to get financed.
'I think the money was coming from the Far East and, being a producer now, you can look at something like Pugwash and think, 'you want to spend £80million on a film for a character that no one really knows about in China?'
'Realistically it's never going to be made. Which is a shame because it did look really beautiful."
Speaking to the podcast Celebrity Catch Up: Life After That Thing That I Did, Frost star added he'd been practising his Pugwash voice.
When the film was first announced, with Lock Stock and Two Smoking Barrels actor Jason Flemyng in a supporting role, Frost said: 'Besides Winston Churchill and Henry VIII, Captain Horatio Pugwash seems like a role I was born to play I can't wait to get going.'
Originally as a series of comic strips and books by cartoonist John Ryan, Captain Pugwash was first adapted into a TV series in 1957, using cardboard cut-outs. It returned for 30 episodes from 1974 to 1975; and another 26 in a 1997 revival.
There is a persistent urban legend that says some of the characters had sexually suggestive names – such as Master Bates, Seaman Staines, and Roger the Cabin Boy – but Ryan successfully sued when newspapers for printing this myth as fact.
Frost also told the podcast that he declined a role in Star Wars because it was only a small role and the pay 'rubbish'.
'I don't do this for free… but a part of me thinks, "oh, you could have been in Star Wars" - but I don't look back. I think "it's done, I've made the decision".'
Published: 4 Mar 2021
Recent News
What do you think?