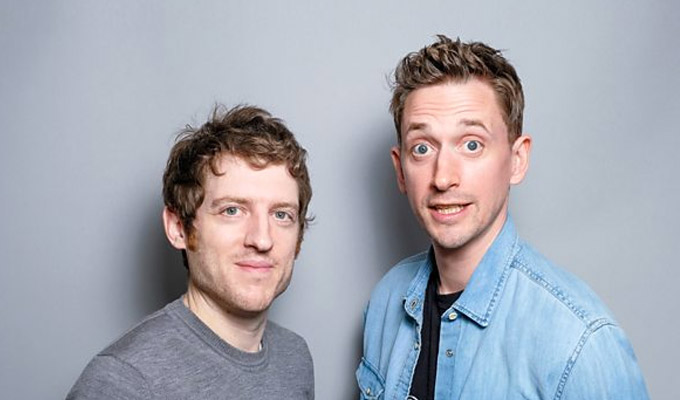 Croeso i Gymru... a Zamunda
The week's best comedy on demand. For more streaming gigs use the search box with 'online' as the region and the date you want.
Now
COLD CASE CRIME CUTS: From Jon Holmes, creator of Radio 4's trippy topical comedy The Skewer, comes this spoof true-crime podcast. Based on the music of Barry Manilow, Bob Marley, Michael Jackson and more, the authentic-sounding American public radio journalist Mason Lane gets to the bottom of mysteries such as Who Shot The Sheriff and, in the first episode out now, what happened at the Copacabana… Subscribe at all the usual podcast channels.
CAPTAIN MY CAPTAIN: Taking his lead from inspirational Robin Williams movies, stand-up Mark Olver takes the role of mentor to 'baby-faced comic Riki Msindo' in this new podcast, charting his progress through the circuit and introducing him to others who might be able to share their insight. In episode one, released on Spotify this week, it's Robin Morgan.
Sunday February 28
ELIS AND JOHN: HOW'S YER WELSH?: On St David's Day Eve, Elis James celebrates his homeland with John Robins in their latest live-streamed show. Tickets are available from dice.fm priced £8
YOUR PLACE COMEDY: Another in the regular series of free gigs supporting, and supported by, 12 small, independent Yorkshire and Humber venues. Tonight's line-up, streamed online, comprises Hal Cruttenden, Rosie Jones and Tim FitzHigham.
Monday March 1
HAPLESS: This six-part series, independently made by director Gary Sinyor, was originally released on on Amazon Prime last year under the title The Jewish Enquirer. And today it arrives on Channel 5's streaming service My5. It stars Tim Downie – whose credits include Paddington and Upstart Crow – as a journalist for the UK's fourth most successful Jewish newspaper, as he tries to find terrible stories to please his narrow-minded editor. Comedy stalwarts Geoffrey McGivern and Lucy Montgomery play his father and sister, with stand-up Josh Howie as his best friend. Here's the trailer:
Tuesday March 2
BETHANY BLACK: UNWINNABLE: The comic tonight introduces a streaming of her professionally filmed stand-up special, about her diagnoses for autism and agoraphobia, followed by a live Q&A. Tickets to the 7.30pm screening are available from Go Faster Stripe.
DOORSTEP COMEDY A new series for streaming service NextUp in which a camera team visits comics to see what they're up to in their homes, gardens and parks during lockdown. The first episode will feature Thanyia Moore, Sunil Patel, Wiliam Stone, Jenny Bede.
ONLY SKETCHES ABOUT PODCAST: Since 2018, Only Sketches About has presented a themed show every other month at The People's Improv Theatre in New York Now, after a few trial episodes, it becomes a proper podcast, with a series of 30-minute episodes based around topics including UFOs, the heart and success. Written and performed by Jordan Olds, Cassidy Graham, Gamal ElSawah, James Azzaretti, Annette Storckman, Ibhan Kulkarni, it's available on Apple Podcasts.
Friday March 5
COMING TO AMERICA 2: Thirty-three years after the original, Eddie Murphy is back as Akeem, newly crowed king of Zamunda, who ends up back in the New York borough of Queens. The cast of this sequel, which will be released on Amazon Prime, also features Arsenio Hall, James Earl Jones, Shari Headley, Wesley Snipes, Leslie Jones and Tracy Morgan.
ROBOT CHICKEN: All 20 episodes from the third series of Seth Green and Matthew Senreich's stop-motion popular culture parody come to All 4, as part of Adult Swim from today.
Published: 27 Feb 2021
What do you think?