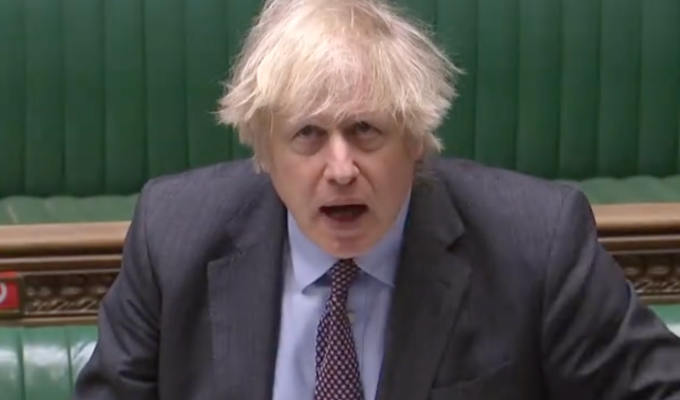 Comedy clubs could be back on May 17
Indoor live comedy could resume as early as May 17 under Boris Johnson's roadmap to release lockdown.
The Prime Minister has unveiled a 'timetable we can stick to' in the Commons – but cautioned that any unlocking would still depend upon progress made in the battle against Covid.
Under the staggered plan, schools will fully reopen on March 8 and two people will be allowed to meet outdoors for a chat, as previously announced.
From March 29, outdoor gatherings of either six people or two households will be allowed; while outdoor hospitality and shops and gyms are set to reopen on April 12. Drive-in gigs will be permitted from this date.
On May 17 at the earliest: pubs, restaurants, cinemas, and hotels are set to fully open their doors once more, and outdoor gigs will be allowed.
Indoor hospitality, entertainment venues will also reopen at half audience capacity, up to a maximim 1,000.
Social distancing is still expected to be enforced indoors on that date, with two households or groups of up to six people will be allowed to mix indoors. Up to 30 people will be allowed at weddings, funerals, wakes, receptions and christenings. Most rules on social contact outdoors will be lifted on that date,
Mr Johnson said that he hoped that on June 21 all legal limits on social contact would be removed, with the remaining sectors of the economy reopened. The Government said: 'We hope to reopen nightclubs, and lift restrictions on large events and performances that apply' at that point.
However, all dates are given as being 'at the earliest'.
Michael Kill, chief executive of the Night Time Industries Association, said: 'We are pleased to hear within the Prime Minister's statement the inclusion of a timeline for night time economy businesses, in particular some of the hardest hit businesses, many of which have been closed since March 2020, like nightclubs, bars and casinos.'
The Prime Minister will lead a Downing Street press conference further outlining the plan at 7pm tonguht,
Published: 22 Feb 2021
Recent News
What do you think?