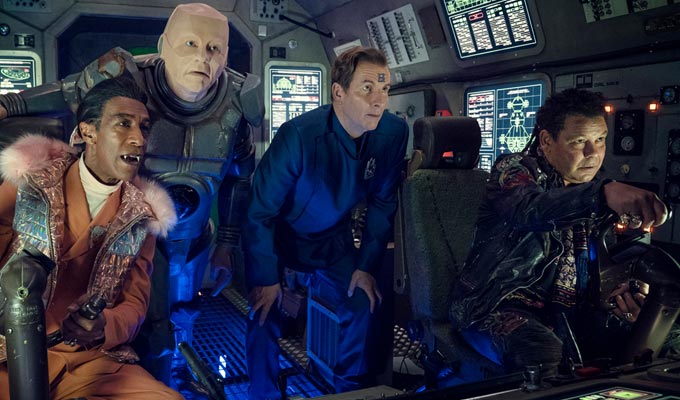 Legal row puts future of Red Dwarf at risk
The future of Red Dwarf has been put in jeopardy because of a row between its two creators.
Doug Naylor and Rob Grant dissolved their partnership in the mid-1990s, with the former continuing to write the show either alone or with other collaborators.
However, Naylor has now launched a High Court action against his former best friend over the rights to the show.
The legal broadside was prompted by his removal from the board of their joint company, Grant Naylor Productions, in March last year, 30 years after they set it up.
In his claim, reported in today's Daily Mail, Naylor alleges the company told UKTV that it 'retained all rights in Red Dwarf'.
At the time Naylor said he was talks with the broadcaster about making two more special episodes of the sci-fi comedy, following the completion of the feature-length adventure The Promised Land.
The suggestion is that those talks stalled because of the uncertainty over who owns the rights.
Naylor told the Daily Mail he was launching his action because: 'I want to make sure that I get back the rights to allow me to keep making Red Dwarf, the show I have been writing for more than 20 years.
'It is bizarre and regrettable that Grant Naylor Productions and its other shareholders are trying to prevent me from doing so.
'I'm sure that Red Dwarf fans and the much-loved cast would agree.'
Grant Naylor Productions made the first ten series of Red Dwarf, although Grant stepped down from writing after series six. Baby Cow made the last two series in association with the company, as well as The Promised Land special.
The Promised Land was the biggest show on Dave during the first lockdown, attracting a consolidated 2 million viewers.
Grant and his company did not comment to the newspaper's Sebastian Shakespeare column.
Published: 4 Feb 2021
What do you think?