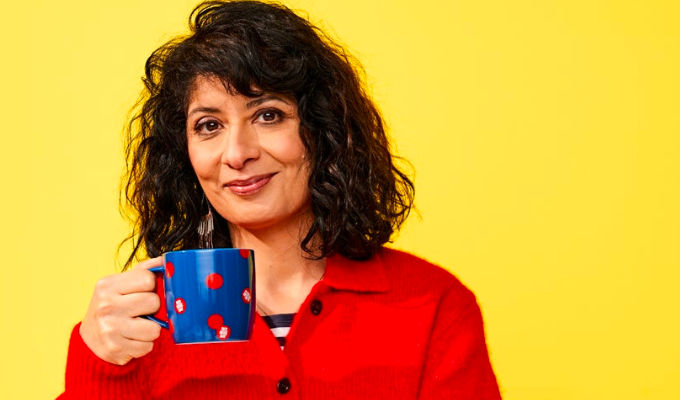 Comedians launch Red Nose Day 2021
Joe Lycett, Mo Gilligan, Shappi Khorsandi and Sir Lenny Henry have contributed to a new video to launch this year's Red Nose Day.
Benedict Cumberbatch and Dame Judi Dench also take part in the promotion for the charity fundraising day on March 19.
The day will again feature a live telethon on BBC One, including a contribution from Dawn French as the Vicar of Dible and a special edition of David Tennant and Michael Sheen's lockdown comedy series, Staged.
Tennant and Sir Lenny are among the show's hosts, alongside Alesha Dixon, Davina McCall and Paddy McGuinness.
Lycett says in the film: 'Laughter is such a great tool. Literally every bad thing that has happened to me in my life, I have been able to get around it with humour.
'Comedy is such a vital tool in all of our lives, and I think if you lose that then you've lost something really profoundly useful. Life is hard, and there's lots of really dark stuff about it, but if you can laugh at it then it loses all of its power.
Gilligan added: 'There's just something so special about laughter and its ability to bring people together. Comic Relief has never felt more needed, especially when so many people have had it so tough right across the last year. I'm proud to do whatever I can to help this year's incredible campaign."
Khorsandi said: 'No matter what, if you're able to get that feeling of sharing a laugh with someone, then you've got a grip on who you are, and you've got a grip on hope.
'When I'm low, or when I've gone through the worst points in my life, sitting down with my brother, or a close friend, and laughing about the thing that is happening, laughing about the tragedy with someone who knows you and gets your humour is exactly what you need.'
Cumberbatch said: 'I think laughter is a panacea, it's always been a national medicine. I think people reached out for it in lockdown; it's a way of getting through life's difficulties and release the tension to just have a moments respite from it; and that relief is much needed now.'
And Dame Judi said: 'I absolutely and implicitly believe in laughter being the best medicine.'
This year's Red Nose Day activities include encouraging people to put their favourite joke in their windows, while the Red Noses will be completely plastic-free for the first time, made from a by-product of sugarcane called Bagasse
Sir Lenny, who co-founded Comic Relief 35 years ago, said: 'We all need cheering up, so this year Red Nose Day will be a bit different.
'Of course we want to raise as much money as possible for people who really need it in the UK and around the world. But we also want to make you smile and bring you some laughter over the coming weeks.'
.
To find out more, visit the Comic Relief website
Published: 2 Feb 2021
What do you think?