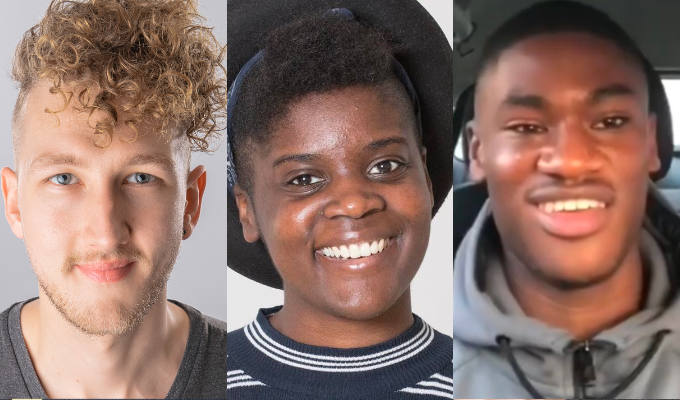 E4 picks comedians as stars of the future
Comedians Joe Hobbs, Lydia Maddix and Ty Logan, have been chosen as 'faces of the future' in a new mentoring scheme run by E4.
They were chosen from 1,500 people in the broadcaster's hunt for 'the next generation of stars' and will now receive hands-on training to make the most of their potential.'
E4 says: 'The training will focus on writing, directing, producing and the story telling process, helping each to really find their niche and learn how to create a connection with E4's young audience.'
Hobbs, from Northampton, started his stand-up career in 2017 and the following year won the Amused Moose Breakthrough Comedian of the Year Award and made the finals of So You Think You're Funny? He recently appeared on the Jonathan Ross Comedy Club on ITV
He said: 'I can't believe it, it's such a thrill to have so much hard work pay off and to get to work with a channel that's given me so many laughs over the years.'
London-based Maddix is a musical comic who has been compared to Kate Nash due to her British-pop sound and punny lyrics – and supported Nash at Standon Calling Festival.
She said: 'I feel super lucky to have been chosen for this incredible opportunity! I've always loved E4's output so to now be working with them is by far the best thing to happen this year! I just can't wait to be a part of their world and to bring my A game to the channel.'
Logan has 200,000 followers on Instagram, and went viral with a video he posted of himself ranting in his car in 2019. He's interest in dramatic projects and developing his own sitcom as well as a talk and game show.
He said: 'I'm grateful to be one of the chosen winners. To be working alongside E4 is a great opportunity. Can't wait to show the world what I've got! Don't ruin it, we're doing it!'
Also selected for the scheme was Kaylee Golding, a DJ and presenter from Birmingham.
As part of the E4 Academy, all four will be given a mentor as well as 'opportunities for exposure on E4' such as digital content, social media, continuity announcements or starring in new shows over the next 12 months.
Karl Warner, controller of E4 said of the quartet: 'They all represent something unique, and the support we'll provide should help skyrocket their careers and inject new talent into the industry. You saw them here first.'
Leah Henry, producer of the Fully Focused team which runs the scheme added: 'Lydia, Kaylee, Joe and Ty are super-talented young performers with a bright future ahead. We can't wait to get working with them as we develop their onscreen personalities, produce new content and see where the journey takes us.'
Published: 19 Jan 2021
What do you think?