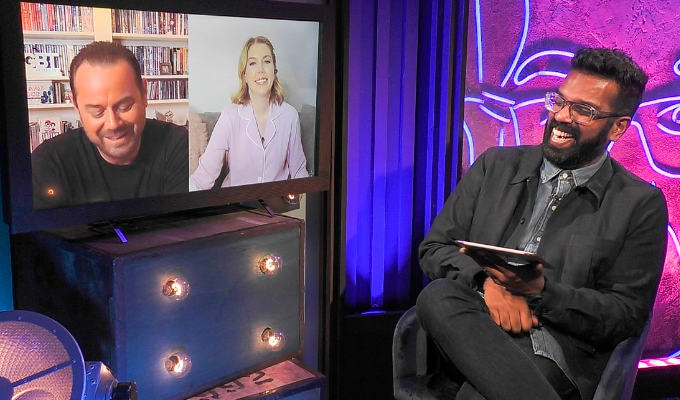 The Ranganation returns for series 3
The BBC has ordered a third series of Romesh Ranganathan's topical show, The Ranganation.
Six 45-minute episodes will air on to BBC Two from next month, producers have announced.
Covid forced the comedian to shoot the second series from his garage in May and June last year, but the new run will be based in a studio.
However his focus group of 20 outspoken members of the public, collectively dibbed The Ranganation, and two celebrity guests will contribute remotely.
Ranganathan said: 'Working with The Ranganation is always a highlight for me so I'm looking forward to being virtually reunited with them all and unpicking the week's events together. We are also back in the studio, which is partly because we have figured out a way to do it safely but mainly because my marriage wouldn't have survived doing the show from my house again.'
His mother, Shanthi, will continue to be a part of the programme, which averaged 1.4million viewers per episode last year.
She said: 'I am delighted to be back on screen soon with Rommy and The Ranganation, although Romesh still says that getting me up and running on Zoom is incredibly annoying. I am looking forward to regularly telling him what I think of his hosting.'
BBC Two controller Patrick Holland added: 'For my money The Ranganation was the best lockdown comedy series on TV last year… Romesh is a master at driving the most insightful and hilarious insights into contemporary life.'
The Ranganation production credits
Made by: Zeppotron
Executive producers: Ruth Phillips and Richard Cohen
Series producer: Mark Barrett
Director: Barbara Wiltshire
Commissioned by: Patrick Holland,controller of BBC Two, and Jo Wallace, acting controller of entertainment commissioning
Commissioning editor: Katie Taylor.
Published: 18 Jan 2021
What do you think?