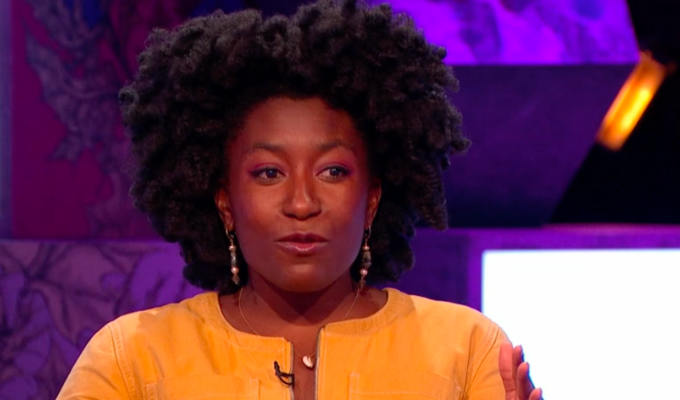 Police to take no action over Sophie Duker's 'kill whitey' quip
Police are to take no further action against Sophie Duker over her 'kill whitey' joke on Frankie Boyle's New World Order.
Officers received a complaint that the comment was hate crime, and launched an investigation.
But a spokesman for Greater Manchester Police told Chortle today: 'We received a report and the crime has been closed with no further action taken.'
In the show, recorded in Media City in Salford last September, the comedian was talking about how terms such as 'black power' and 'white power' were part of a divisive capitalist structure.
She said: 'When we say we want to kill whitey, we don't really want to kill whitey,' adding in jest: 'We do… nah, not today.'
The line got a laugh from the panel but prompted protests among some viewers and right-wing newspapers, with Sarah Vine writing in the Daily Mail: 'That the BBC should openly support such hateful dogma calls into question the very notion of what it means to be a public service broadcaster.'
In a subsequent article, Duker said that the furore was designed to detract from her points.
She wrote: ' The bullies wanted me sacked, shamed, silenced. The manufactured outrage was tactically deployed white noise. It was damaging because it drowned out not only my point about white supremacy harming people of every race but also many astute observations from my hilarious, eloquent colleagues.
'It was a harsh wake-up call to the toxicity of the media, but now I couldn't care less.'
Just over 1,300 people contacted the BBC in protest at Duker's comments, but the Corporation has already rejected their complaints.
The Corporation said the line was 'within audience expectations for a post-watershed, topical, satirical programme from a comedian whose style and tone are well-established… The panellists' comments were in response to a motion that was written and presented in line with the programme's tone and style.
'Sophie Duker is a talented comedian and a regular panellist on Frankie Boyle's New World Order, and we look forward to continue working with her at the BBC.'
Published: 14 Jan 2021
What do you think?