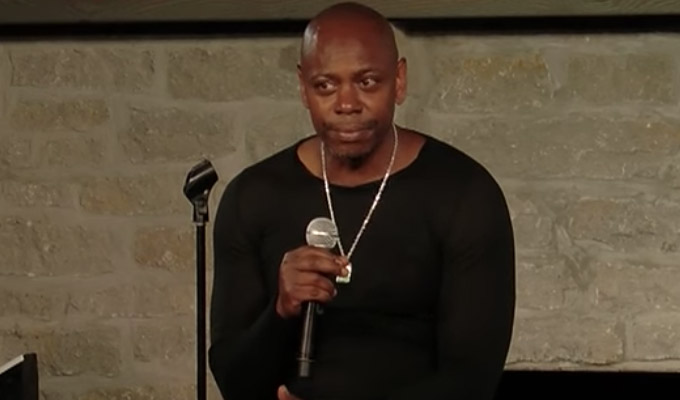 Dave Chappelle has YouTube's top trending video of 2020
Dave Chappelle's ruminations on Black Lives Matter in the week George Floyd died was the No 1 trending video on YouTube this year, the streaming platform has announced.
The 27-minute video was released on Netflix's comedy channel in June, and was entitled 8:46, the length of time a Minneapolis police officer pinned his knee on Floyd's neck.
It has been reviewed more than 29million times since then.
Chappelle filmed the video in his home town of Beavercreek, Ohio, and the description includes a comment from the comedian saying: 'Normally I wouldn't show you something so unrefined, I hope you understand.'
It adds: 'Dave is not interested in monetising any content related to George Floyd's death' and encourages viewers to make donations to the Equal Justice Initiative.
The show was not released on Netflix itself.
YouTube's annual top 10 is compiled from a combination of total views, likes, comments and searches.
Also making the top ten was a Saturday Night Live sketch parodying the first debate between Donald Trump and Joe Biden, and Ricky Gervais's monologue opening the Golden Globe Awrd.
But neither could beat a how-to video about building a squirrel-proof bird feeder.
• Click here for our five-star review of 8:46
Here are YouTube's Top Ten Trending videos of 2020
1. 8:46 – Dave Chappelle – Netflix is a Joke
2. Building the Perfect Squirrel Proof Bird Feeder – Mark Rober
3. First Debate Cold Open – Saturday Night Live
4. We Broke Up. – jeffrreestar
5. I Bought The World's Largest Firework ($600,000) – MrBeast
6. I'm Coming Out. – NikkieTutorials
7. Minecraft Speedrunner VS 3 Hunters GRAND FINALE – Dream
8. Ricky Gervais' Monologue – 2020 Golden Globes – NBC
9. Quarantine Stereotypes – Dude Perfect
10. Some Good News with John Krasinski Ep. 1 – SomeGoodNews
Published: 1 Dec 2020
What do you think?