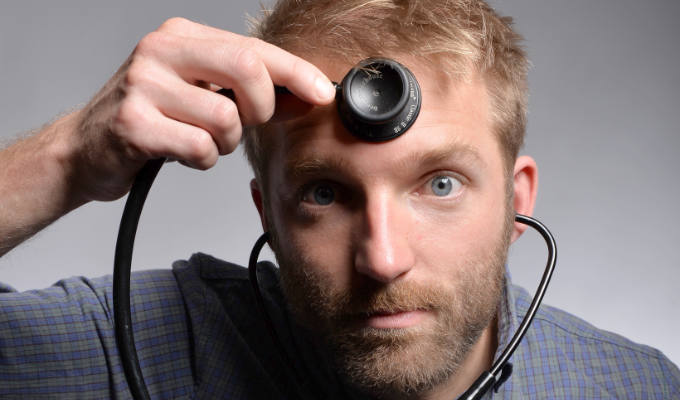 Book and screen deal for comic and psychiatrist Benji Waterhouse
Comedian Benji Waterhouse has signed a book, TV and film deal for his memoirs about being a junior psychiatrist.
You Don't Have to Be Mad To Work Here will be published in spring next year, with publisher Jonathan Cape describing it as 'poignant, eye-opening and darkly hilarious'.
It tells of how Waterhouse – who uses the surname Waterstones on the circuit – became a psychiatrist, of how he quit because he was disillusioned and burnt-out and compassion fatigued, and of how he rediscovered his empathy and rejoined the progression when the Covid pandemic struck.
Film and television rights have been sold to House Productions, whose credits include Trigonometry and Brexit: The Uncivil War
The publishers will be hoping the title can emulate the runaway success of Adam Kay's NHS memoirs This Is Going To Hurt, which is also being made into a TV series.
Waterhouse said: 'Recently the country has been getting through medical memoirs faster than hand sanitiser. But the psychiatrists have been quiet, until now.
'I'm excited to introduce readers to the newest, most controversial and least understood medical speciality. And to finally explain the difference between a psychiatrist, a psychologist and a psychic.
'The overwhelming interest received from publishers was encouraging for mental health, and to sign with Cape who publish so many of my literary heroes is very surreal.'
Jonathan Cape publishing director Bea Hemming added: 'Benji's was one of the smartest, funniest, sharpest and most eye-opening proposals I've ever read. He brings a rare combination of wit and humanity to some of the most difficult aspects of what make us human.
'You Don't Have to Be Mad To Work Here will be a book that speaks with urgency and insight about the crisis of mental health and healthcare, while also introducing a brilliant storyteller.
'I can't remember the last time there was such a deep consensus at Cape and Vintage that we had to acquire a book.'
She acquired the rights to the book at auction from Waterhouse's agents Cathryn Summerhayes and Lucy Morris at Curtis Brown.
Waterhouse first made a splash on the comedy circuit in 2014, when he was a finalist in the So You Think You're Funny? and Leicester Square new act competitions, and is planning on making his solo Edinburgh debut at next year's Fringe. His material is described as 'providing a fly-on-the-padded-wall account of the mental health world, and debunks some myths along the way (e.g. there are no padded walls)'.
Published: 18 Nov 2020
What do you think?