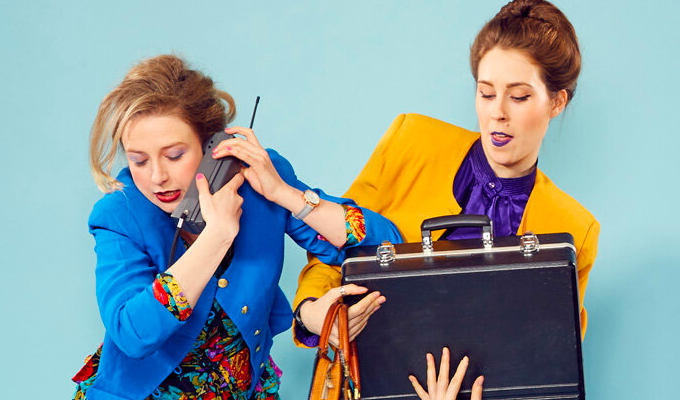 Doing pods' work
The week's best comedy on demand.
Now
MISSION: ACCESSIBLE: Rosie Jones starts her new Channel 4 travelogue, seeking accessible UK breaks for members of the public, starting with a big, gay weekend in Brighton for amputee, Daniel for which she recruits the help of fellow comedian Maisie Adam.
3 NON BLONDES: Both series of this early 2000s hidden-camera comedy show starring Ninia Benjamin, Tameka Empson, Jocelyn Jee Esien landed on Netflix this week.
LUNCH: For the past 40 years, a group of comedy legends has been meeting for lunch every other Wednesday. The members and their meeting places have changed over the years, but this documentary, newly landed on Amazon Prime charts this private institution. Those featured include Sid Caesar, Arthur Marx (Groucho's son) and Carl Reiner.
SAM JAY: The comic's 2017 Comedy Central special, covering life with her new wife and discusses politics and racism in America, has been released for free on YouTube.
Tuesday October 20
UNMUTE PODCAST FESTIVAL: Five days of live comedy podcasts kicks off at 7pm with Nobody Panic, in which Stevie Martin and Tessa Coates tackle the problems of 'being a fully functioning adult without screaming all the time' with guest Ed Gamble. And then at 9pm, Rhod Gilbert and Sian Harries record a version of their frivolous programme, The Froth. The rest of the week comprises Black Gals Livin', The Adam Buxton Podcast, The Blindboy Podcast, Cuddle Club with Lou Sanders, Off Menu with Ed Gamble and James Acaster, The Bugle and Films to be Buried With with Brett Goldstein. All info and tickets are here.
A NIGHT IN WITH MATTHEW MCCONAUGHEY: A virtual session to launch the memoirs of the actor 'and self-proclaimed pickle expert', Greenlights. Tickets are £22. Including the book, here
LAUGHING ALL THE WAY TO THE WHITE HOUSE: There's an epic line-up for this virtual fundraiser for Democrats fighting President Trump in the crucial swing state of Wisconsin. Chip in any amount to join the event, whose line-up includes Sarah Silverman, Seth MacFarlane, Lewis Black, Chelsea Peretti, Whitney Cummins, Judd Apatow, Mike Birbiglia, Harry Shearer, Greg Proops, Maria Bamford, Will Forte and more! It's only going to be livestreamed at 2am UK time tonight (ie the early hours of tomorrow morning) and just the once. Tickets are here
Wednesday October 21
NICK HELM: The comic with the gruff exterior and tender interior appears in an online gig from Always Be Comedy from 8pm tonight. Tickets
MY NEXT GUEST NEEDS NO INTRODUCTION WITH DAVID LETTERMAN: The American talk show king is back with season 3 of his long-form show on Netflix, featuring Dave Chapelle, Robert Downey Jr, Lizzo and Kim Kardashian.
Thursday October 22
CUCKOOED: Mark Thomas will be live-streaming his 2014 storytelling show, about how he discovered his close friend was spying on him for Britain's biggest arms dealer. It will be followed by a live Q&A. Tickets are a fiver via Go Faster Stripe.
• For details of more live-streamed gigs, select 'Online' in our listings search.
Published: 17 Oct 2020
What do you think?