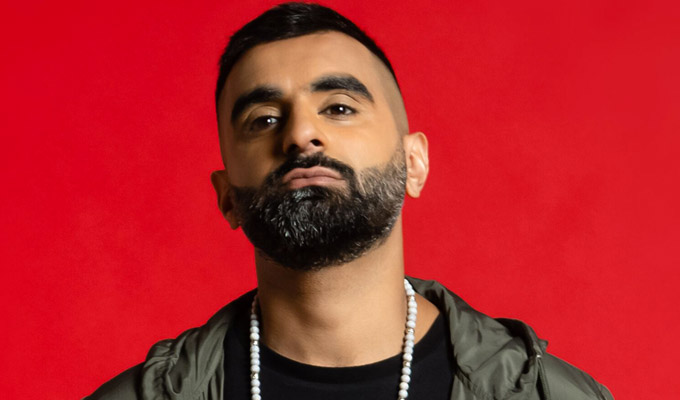 Tez Ilyas to write his first book
Tez Ilyas is writing his first book, entitled The Secret Diary of a British Muslim Aged 13¾.
The book, about his early life in a working-class, insular British Asian Muslim community in Blackburn will be published on April 8 just before the start of Ramadan, and on Ilyas's birthday.
The comic said: 'I can't believe that little old me, from a school that had a GCSE pass rate of 30 per cent has been given the chance to write a book.
'I genuinely cannot wait for people (especially my fans) to read it. I really wanted to write this book to give people a trip down memory lane and to give a snapshot of what life was like as a young British Asian Muslim in 1990s Britain. So much (too much?) has been said and written about us, I think it's time you heard from us?'
Emily Barrett, editorial director the Sphere, Little, Brown Book Group, added: 'Tez manages to deliver breathtakingly razor-sharp and yet utterly laidback comedy, and that style and sense of purpose is what makes this book both hilarious and important.
'There are very few books about the British Muslim experience – and even less about what it was like to come of age at a time of intense prejudice against the Muslim community. I'm so thrilled Tez is redressing that balance and that Little, Brown is the lucky publisher to help him do that.
'This is a book for people who want to remember their own misspent youths, for anyone who likes laughing, for everyone who wants to further their understanding of racism in the UK, and for Tez's loyal fan group, his Tezbians – which you'll definitely become a part of once you've read the book.'
The publishers' blurb promises that in the memoir – described as 'at times shalwar-wettingly hilarious and at others searingly sad' – Ilyas will recall running away from shotgun-wielding farmers, successfully dodging arranged marriages and having front row seats to race riots
Ilyas was nominated for Club Comedian of the Year in this year's Chortle Award, plays a lead character in BBC sitcom Man Like Mobeen and has appeared on a host of panel shows, including Mock the Week and The Last Leg, as well as fronting his own Tez O'Clock Show for Channel 4.
But earlier this year he stepped down from the steering group of new industry body the Live Comedy Association after admitting 'inappropriate behaviour' towards women, saying he was working on 'a process' to be better and confessing: 'The way I sometimes used women for my own personal gratification is just not OK.'
• Place an advance order for the book at Foyles here.
Published: 28 Sep 2020
Recent News
What do you think?