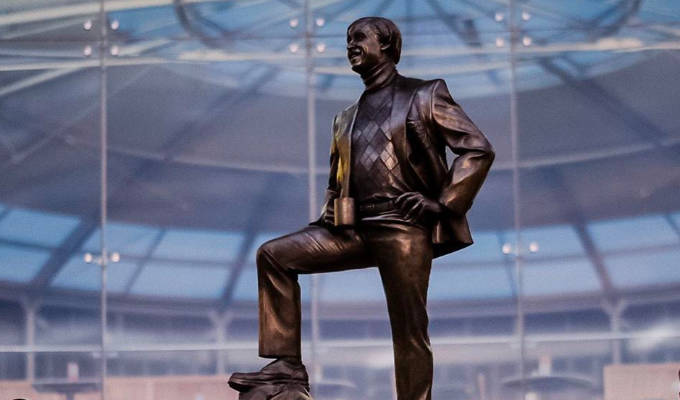 Norwich gets an Alan Partridge sculpture
A life-sized golden statue of Alan Partridge has been erected in Norwich.
The likeness has been erected on a 5ft plinth bearing the word 'Aha!' outside the city's Forum shopping centre.
It was created by fans Nic Dutton and Gavin Fulcher, who say it was 'gift to Norwich' - although it has been suggested the instillation could be a publicity stunt for Partridge's new From the Oasthouse podcast
Fulcher, a sculptor for the film industry, told the BBC: 'It was just a bit of fun really. I think during this time we could all do with a bit of light relief.'
And he told the Eastern Daily Press: 'It has been a passion project for a few years as, ever since we met, we had been deciding on who would be a good person to sculpt and went for Alan Partridge.
'It was a guerilla project and we wanted to make people think that the council had been crazy enough to erect a statue. Obviously, the Forum were in on it, and they gave us permission.
'It has been fun seeing people's reactions as the whole thing was a surprise. We just did it for a bit of humour.'
Several years ago a genuine campaign tried to get a statue of Partridge erected in the city, but it came to nothing.
Steve Coogan's alter-ego is portrayed in an Argyle sweater, loafers and blazer with a Partridge crest on the best pocket.
This video (which has no sound) shows how the pair had a friend stand in for the pose before the figure was forged out of clay and painted gold.
The statue is set to be in place until Saturday.
Published: 24 Sep 2020
Recent News
What do you think?