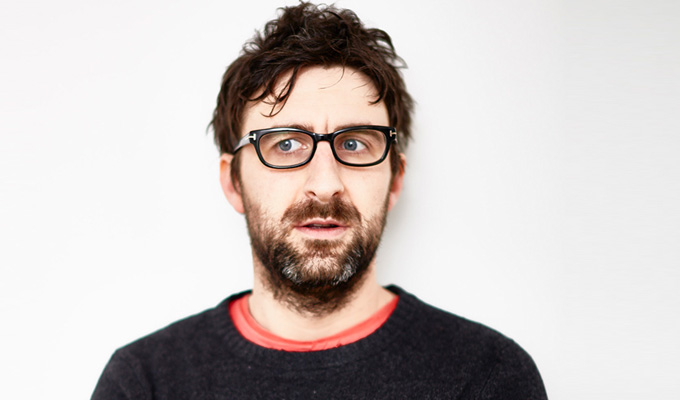 Mark Watson writes his first movie
Mark Watson has written his first feature film, to be directed by Sixth Sense star Toni Collette.
The Best Of, which is also Collette's directorial debut, is based on the 2016 novel by Australian author Graeme Simsion and revolves around an IT specialist Adam Sharp who has a stable, unexceptional life with his matter-of-fact wife Claire.
But when his first love, Angelina, gets in touch with an offer of reuniting, Adam must choose between the fantasy of a life unlived and the reality of his marriage in its quiet beauty.
The romcom is one of 34 films and TV shows to have been awarded a slice of £1.2million development funding from Screen America.
Another is an untitled project from 2013 Edinburgh best newcomer nominee Matt Okine, loosely based on his experiences of growing up in Brisbane. It's set in 1998, when 12-year-old African-Australian Mike Amon struggles with entering high school, finding first love, twisting his testicle – and learning that his mother has been diagnosed with late stage cancer.
Despite the funding fillip, Watson cautioned against getting hopes up.
'I doubt my name will be in too many sentences with Toni Collette's in my lifetime, so I guess I'm RTing this,' he initially said, linking to a report of the project, before adding: 'Re the implausible Watson/Collette team-up in the last RT - I should say, it's probably still 11 steps from actually getting made, but what's the use of being strung along by this business if you can't occasionally look good to your mum.'
Watson previously wrote the 2009 television movie A Child's Christmases In Wales, starring Ruth Jones, as well as the 2007 short The Lift. Meanwhile, Dan And Sam, the supernatural graphic novel he wrote with illustrator Oliver Harud, is currently being developed into a film by Japanese writer-director Hikari.
Yesterday, it was also reported that Watson was writing his autobiography, Eight Deaths (And Life After Them), which will cover his divorce, career disappointments and suicidal thoughts.
He told the British Comedy Guide that the book, which will be released on audio, will be 'the most comprehensively I've dealt with any of this stuff. Even on stage, you can only hint at certain things to not completely derail the fun of it.
'It occurred to me that the aspect of comedy that most interests people is the jeopardy,' he added. 'They're always asking about your worst heckles. They want to hear the miserable and dangerous side to it. So I wondered if I could write a book that drew on some of the lows of my career and life in a way that might be helpful to people.'
'I also wanted to write about how, when you're in the midst of what seems like success, you can have the profile of a successful person but still feel as if you're failing quite a lot.'
Eight Deaths (And Life After Them) will be released by Audible in January.
Published: 5 Aug 2020
What do you think?