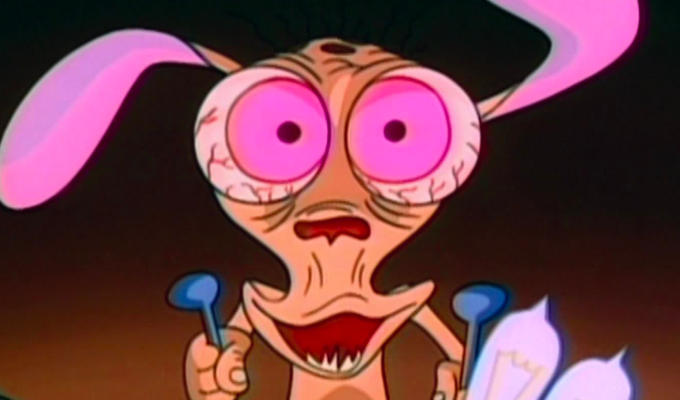 Happy Happy Joy Joy? Ren and Stimpy make a comeback
Comedy Central has announced it is to remake anarchic animated comedy Ren & Stimpy, just weeks after confirming it was also reviving Beavis and Butt-Head.
Created by John Kricfalusi, the show, about an emotionally unstable chihuahua, and a good-natured yet dimwitted cat originally launched on Nickelodeon on August 11, 1991, and ran for almost five years, building u pa cult audience.
The revival is described as a 'reimagination' and will be made by a new creative team.
Chris McCarthy, an executive with parent company Viacom, said: 'We are excited to reinvent this iconic franchise with a new creative team and our partners at the Nickelodeon Animation Studio.
'Ren & Stimpy joins our rapidly expanding roster of adult animation including South Park, Beavis and Butt-Head and Clone High as we continue to reimagine our treasure chest of beloved IP for new generations.'
IP is intellectual property.
He added: 'We are going to give them the edgy, irreverent, comedic voice that defined them but we're going to tell all new stories and bring in new character.'
Ren & Stimpy was revived by the Spike network in 2003, but canned after three episodes.
In 2018, Kricfalusi offered something nearing apology to two women who had accused him of grooming them for sexual relationships when they were 13 and 15, blaming undiagnosed bipolar disorder and attention deficit hyperactivity disorder
'The last thing I want to do is aggravate bad feelings that already exist,' he wrote. These feelings are obviously real and strong and I understand them much better now.
'It's not pretty to have to stare myself in the face and see myself the way those who I've hurt see me. I imagine many other men are waking up and feeling the shame I've felt for years. I welcome a social change in our attitudes towards women and how we should treat them with respect and equality."
Published: 5 Aug 2020
What do you think?