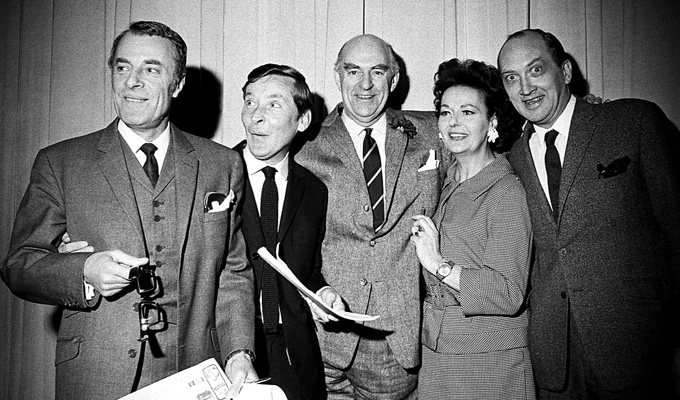 Round The Horne repeat 'broke BBC standards'
A 52-year-old episode of radio comedy Round The Horne has broken current BBC standards because of its potentially racist stereotypes, the broadcaster's complaints department has ruled.
The episode, from 1967, featured white stars such as Hugh Paddick and Betty Marsden mimicking black characters in an extended parody of the 1950 movie Young Man With A Horn.
Their spoof, written by Barry Took and Marty Feldman, told of a young white man, Bix Spiderthrust (Kenneth Williams), who wanted to enter the black-dominated world of jazz music in the 1920s.
Some of the personalities in the story were given comically exaggerated accents, but host Kenneth Horne made no attempt at putting on a voice, with the joke being that his plummy Home Counties tones were entirely inappropriate for lines such as: 'I ran my ebony fingers through my frizzy hair.'
However, after the episode was repeated on Radio 4 Extra in February, a listener contacted the BBC, calling it to be banned because of the offence it could cause.
Now the BBC's editorial complaints unit has agreed that the show had been in breach of the standards.
However, in its newly released findings, the unit stopped short of a ban because of Round The Horne's status as a comedy classic, with the show recently voted best radio comedy of all time.
But the watchdogs ruled that the episode should always be broadcast with a warning in future, saying that 'the portrayal of the black characters by white actors was outdated and, in today's context, potentially offensive'.
Despite insisting on 'appropriate signposting' to give listeners the relevant context for any repeats, the unit said the parody was never intended to be racist
The unit noted: 'It was the stereotypes often encountered in biopics of the era which were the target of the sketch's humour, and the use of exaggerated accents (for white southern characters as well as black ones) would have been more likely, in the programme's original context, to undercut prejudice than to perpetuate it. '
The sketch can be heard here.
Published: 27 Jul 2020
What do you think?