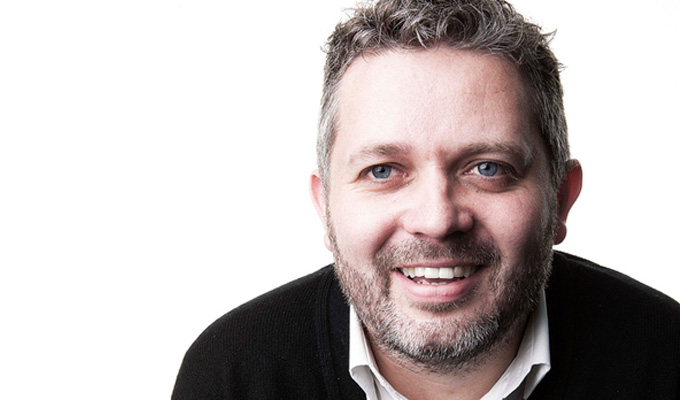 BBC to record a new TV stand-up show
The BBC has announced a new stand-up series designed to support grassroots comedy talent hammered by the Covid-19 crisis.
BBC Presents: Stand Up For Live Comedy will start filming this summer in six British cities, with a mission to kickstart live stand-up again.
The line-up for the six half-hour shows has not yet been announced, but the progamme will be made in adherence to government guidelines to limit the spread of the virus.
Shane Allen, the controller of BBC Comedy, pictured, said: 'It's been the roughest time for live comedy on record and finally we can be the first broadcaster to bring audiences and comedians together in the same place again as nothing beats the magic of shared laughter.
'The UK comedy circuit is the best in the world and it's vital that we continue to support emerging comedy talent and help launch those stars of tomorrow. Our national shared sense of humour is a crucial way to deal with adversity and remind everyone there is solidarity and much needed cheer coming to your screens soon.'
The news comes the day after it was confirmed that BBC Two stand-up showcase Live At The Apollo had been put on hold because of coronavirus. That series is normally recorded in September.
Phil McIntyre Television is making the new series with BBC Studios.
Executive producer Lucy Ansbro said: 'We are delighted that the BBC have moved swiftly to support live comedy now that the government have relaxed their guidelines. We are excited to work with them to bring live entertainment back to peoples screens and back in to their lives."
And BBC Three controller Fiona Campbell added: 'BBC Three has been involved in the careers of so many comedians that cut their teeth on the live circuit. It's the lifeblood of the industry and we're really pleased that we can play our part bringing live comedy and laughter back to the audience.'
Currently, outdoor gigs are permitted with social distancing, while the government has signalled a return to indoors shows from August 1 if trials to stage them safely are successful.
BBC Presents: Stand Up For Live Comedy production details
Made by: Phil McIntyre Television and BBC Studios for BBC Three
Executive producers: Lucy Ansbro for Phil McIntyre Television and Jonathan Blyth for BBC Studios
Commissioning editor: Kate Daughton
Commissioned by: Shane Allen, controller of BBC comedy, and Fiona Campbell, cntroller of BBC Three.
Published: 21 Jul 2020
What do you think?