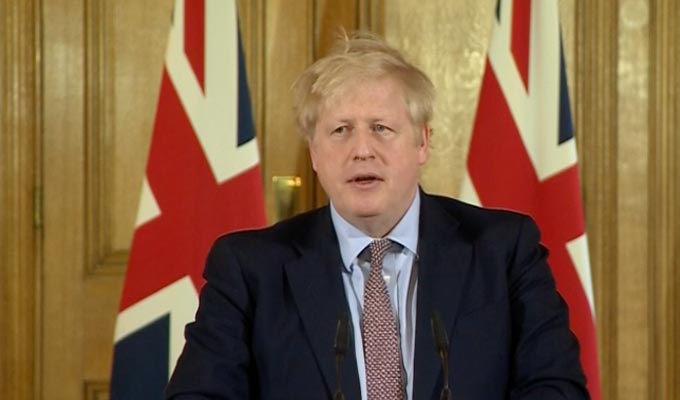 £1.6bn government lifeline to the arts
The government has announced a £1.57 billion rescue package to help the art and culture industry deal with the impact of coronavirus.
Thousands of organisations across a range of sectors including the performing arts and theatres, will be able to access emergency grants and loans - although details of who would be eligible has yet to be announced.
Boris Johnson said of the biggest ever one-off investment in UK culture: 'The UK's cultural industry is the beating heart of this country. This money will help safeguard the sector for future generations, ensuring arts groups and venues across the UK can stay afloat and support their staff whilst their doors remain closed and curtains remain down.'
Culture Secretary Oliver Dowden added: 'Our arts and culture are the soul of our nation. They make our country great and are the lynchpin of our world-beating and fast growing creative industries. I said we would not let the arts down, and this massive investment shows our level of commitment.'
The package include £1.15 billion support pot for cultural organisations in England delivered through a mix of grants and loans; £120 million capital investment to restart construction on cultural infrastructure;and £188 million for the devolved administrations in Northern Ireland (£33 million), Scotland (£97 million) and Wales (£59 million).
Decisions on awards will be made with the aid of bodies such as Arts Council England, which has not traditionally recognised stand-up as deserving of support.
However the package is likely to be a lifeline to theatres and arts centres that comprise the touring circuit, and often hold their own stand-up clubs.
A number of theatres have gone into administration since the lockdown, including Southport Theatre and the Nuffield Theatres in Southampton.
The government package has been welcomed across the sector.
Julian Bird, chief executive of the Society of London Theatre & UK Theatre said: 'Venues, producers and the huge workforce in the theatre sector look forward to clarity of how these funds will be allocated and invested, so that artists and organisations can get back to work as soon as possible.
'Our industry's united ambition is to be able to play its vital role in the nation's economic and social recovery and this investment will allow us to do so.'
Mark Cornell, chief executive of Ambassador Theatre Group, said: 'It is essential that these funds are made available to all areas across the cultural ecosystem, from the subsidised sector to independent contractors, artists, producers, technicians and venue operators. This is an important step towards securing the future of Britain's cultural life.'
And Sir Nicholas Serota, the chair of Arts Council England, said: 'I know our amazing artists and creative organisations will repay the faith that the government has shown by demonstrating the range of their creativity, by serving their communities and by helping the nation recover as we emerge from the pandemic.'
Published: 6 Jul 2020
What do you think?