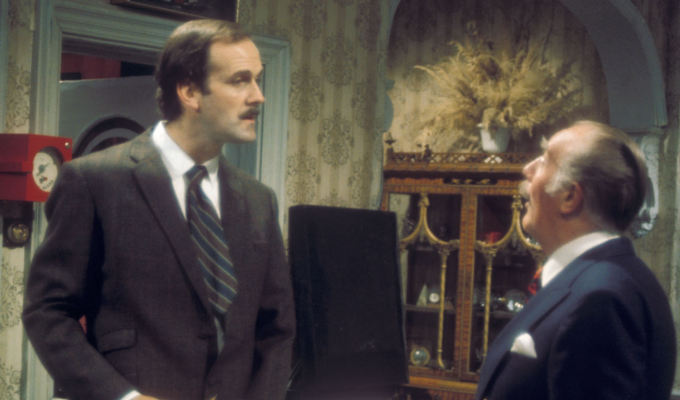 Fawlty's back! But with a minor disclaimer
The controversial episode of Fawlty Towers has been restored to on-demand TV, with its strong racist language intact.
Broadcaster UKTV triggered last week, when it pulled the episode The Germans from catch-up services, because of the offensive language used by Major Gowen, an out-of-touch long-term resident of the sitcom hotel.
Now the episode is back on broadcast platforms, with no cuts to the content, and minimal extra context given to the slurs used.
On Virgin Media, no disclaimer is given, except the note that the episode is rated 12 for 'language and discrimination'.
On Sky-owned Now TV, the episode description no longer gives a brief plot description, like all the other instalments. Instead the synopsis says only: 'This episode reflects standards and attitudes which viewers may find offensive.'
Earlier this week, UKTV - which is owned by the BBC - said:'We recognise that more contextual information can be required on our archive comedy, so we will be adding extra guidance and warnings to the front of programmes to highlight potentially offensive content and language. We will reinstate Fawlty Towers once the extra guidance has been added.'
The controversial scene, which features the Major using the n-word, is usually edited from terrestrial repeats but was included in the version UKTV had made available on platforms such as Sky, Virgin Media, BT and Now TV.
The exchange is also included in the version of Fawlty Towers available on Netflix, which recently pulled several British comedies, including Little Britain, because of the use of blackface. It carries the same, low-key 'rated 12 for 'language and discrimination' note as on Virgin Media.
The minor changes come after UKTV found itself at the centre of a major storm for withdrawing the episode, initially with no explanation why.
John Cleese weighed in with his criticism, telling Australian newspaper The Age: 'If you put nonsense words into the mouth of someone you want to make fun of, you're not broadcasting their views, you're making fun of them.
'The Major was an old fossil left over from decades before. We were not supporting his views, we were making fun of them. If they can't see that – if people are too stupid to see that – what can one say?'
The episode first aired in 1975 and also features Basil Fawlty's 'don't mention the war' outburst and exaggerated goose-stepping in front of a group of visiting Germans, and apparently being shocked at treatment in hospital by a black doctor.
Published: 16 Jun 2020