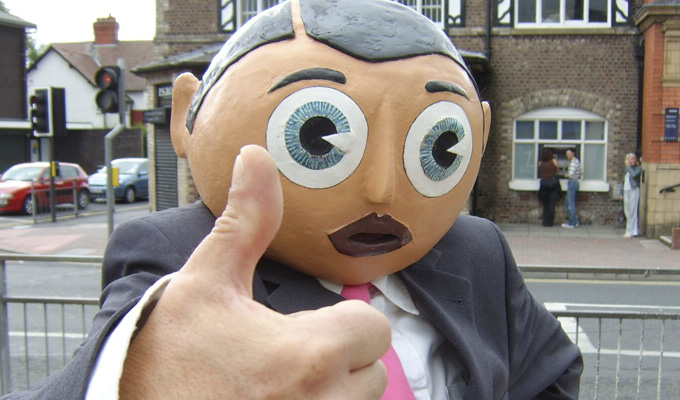 Celebrating Frank Sidebottom online
Rare and unseen Frank Sidebottom footage is to be screened online later this month to mark the tenth anniversary of creator Chris Sievey's death.
Celebrations of the man behind the papier maché head were due to take place in Timperley, the Greater Manchester suburb forever associated with the character, on July 20, but organisers have been forced to stage a virtual event instead.
The presentation will include a 1991 live performance by Frank and The Oh Blimey Big Band, deleted scenes from the recent Steve Sullivan documentary Being Frank as well as a 'comeback' gig from 2005.
The official Frank Sidebottom and Chris Sievey Facebook page promise the event, which will run from 7.30pm, will be 'like Live Aid but made with gaffer-tape and cardboard'
Here is the official Facebook page event, run in conjunction with the Old Courts venue in Wigan.
Sievey 11:37 Enterprises, the company looking after his legacy, is also releasing the test card Frank and his smaller sidekick Little Frank made for Manchester cable TV company Channel M.
The overnight transmissions became a cult hit, but the company warns the new release of the broadcasts is 'for the most loyal and nocturnal fans only'
A release date has not yet been confirmed but it is available to order from the merchandise website.
Sievey, also known for fronting the band The Freshies, died on June 21, 2010, at the age of 54, soon after being diagnosed with cancer. After it was reported that Sievey had died virtually penniless and was facing a pauper's funeral, fans raised more than £20,000 to give him a proper send-off.
Published: 10 Jun 2020
What do you think?