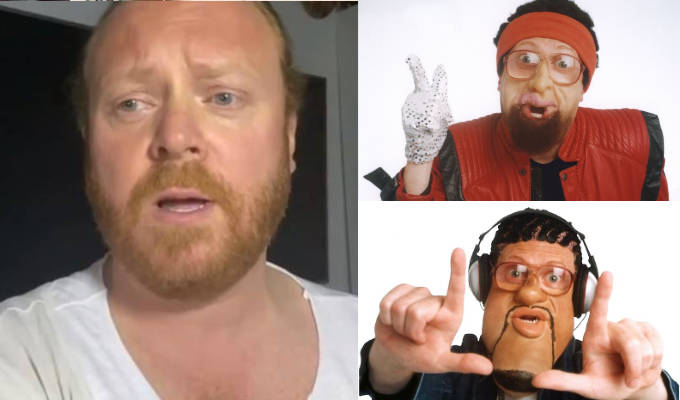 Leigh Francis apologises for Bo'Selecta's black caricatures
Keith Lemon creator Leigh Francis has offered a teary apology for mimicking black celebrities on his early TV shows,
The comedian said he was 'deeply sorry for any upset' he caused for using rubber masks to mock stars such as Michael Jackson and Craig David on Bo' Selecta!
His comments, made in n an emotional Instagram post last night, were prompted by the worldwide Black Lives Matter protests in the wake of George Floyd's killing in Minnesota.
He said: 'Hi, my name's Leigh Francis. I play a character called Keith Lemon on television. It's been a weird few days, I've sat and thought about things and what I could post to try and help things.
'Back in 2002, I did a show called Bo' Selecta, I portrayed many black people. Back then I didn't think anything about it, people didn't say anything – I'm not going to blame other people.
'Well, I've been talking to some people. I didn't realise how offensive it was back then.
'I just want to apologise, I just want to say sorry for any upset I caused whether I was Michael Jackson, Craig David, Trisha Goddard, all people I'm a big fan of. I guess we're all on a learning journey.'
The 47-year-old captioned the post: 'I want to apologise to anyone that was offended by Bo'selecta. I'm on a constant journey of knowledge and just wanted to say I'm deeply sorry. #blacklivesmatter.'
He previously took part in the Blackout Tuesday campaign by posting a black square on Instagram with the hashags #blackouttuesday #blacklivesmatter.
However, activists had asked people not to use the latter, normally used for critical information and updates on the cause, became a sea of black
Bo Selecta aired on Channel 4 between 2002 and 2006 followed by a two-part Michael Jackson special in 2009.
Francis was criticised for blacking up in the series as long ago as 2006, when Guardian columnist Hannah Poolwrote: 'The phenomenon of white entertainers putting boot polish on their faces to "look black" is nothing new, but like Jim Davidson and mother-in-law gags, it was supposed to be something that was banished to the underground echelons of the entertainment circuit. And yet it's back.'
Last week, US talk show host Jimmy Fallon apologised for blacking up to mock Chris Rock in a 2000 episode of Saturday Night Live, saying: 'There is no excuse for this. I am very sorry for making this unquestionably offensive decision and thank all of you for holding me accountable.'
Published: 5 Jun 2020
What do you think?