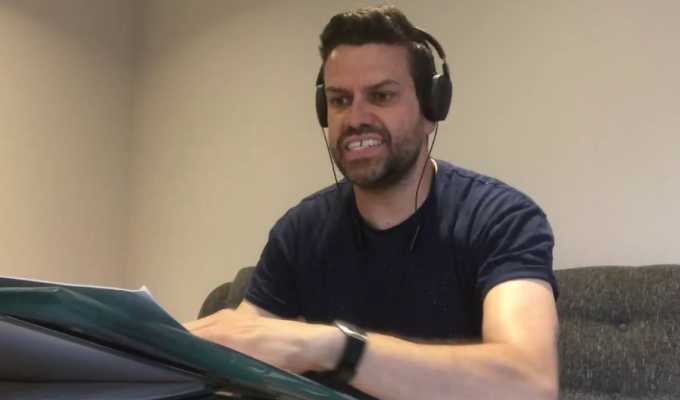 Radio 4 sitcom for Room Next Door comic Michael Spicer
Radio 4 is to air a semi-autobiographical sitcom from Room Next Door comedian Michael Spicer.
The show considers what happens when a comic who spent 20 years under the radar suddenly becomes a global internet sensation.
It reflects Spicer's experiences with his online clips imagining an adviser speaking into the earpiece of public figures making speeches
Spicer wrote the one-off show, called Before Next Door, which will feature guest appearances from Ellie Taylor, Peter Curran and Joanna Neary
The blurb for the show, which airs at 11pm on June 18, says: 'What happens when a socially awkward and neurotic part-time comedian becomes a global internet sensation? How will Michael cope? Will this married father of two ever be able to quit his day job as a copywriter for a kitchen worktop company? And why is the broadcaster Peter Curran in his house?
'After 20 years of producing comedy under the radar, Michael is now on the cusp of leaving the office behind and - with the help of his wife Roberta - making a career out of being funny. However, the road to fame for an ordinary person like Michael is a frightening one with sharp corners and hairy bends.'
Published: 29 May 2020
Recent News
What do you think?