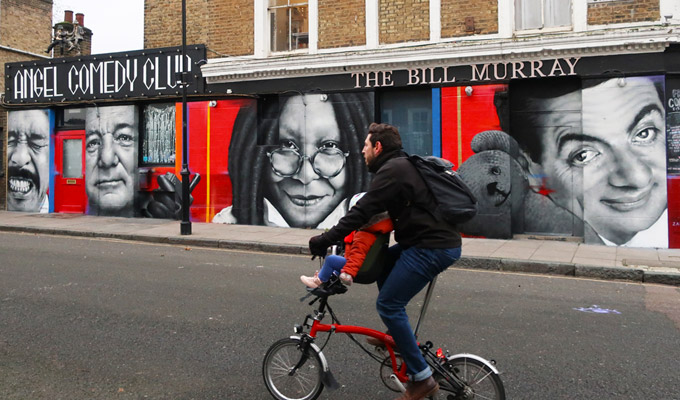 Bill Murray venue: We need charity to survive
London's Bill Murray comedy venue says it will not survive the coronavirus lockdown unless fans bail it out.
Managers have sent out a desperate appeal to customers asking them to make a regular donation to keep the Islington pub afloat after its income, like all live venues, evaporated overnight.
The move comes as Manchester's Frog and Bucket comedy club was mentioned in Parliament as an example of a business facing dire straits because of the lockdown.
Addressing the first Prime Minister's Questions to be held under social distancing rules via video link, Manchester Central's Labour MP Lucy Powell asked Foreign Secretary Dominic Raab if the government would come up with a rescue plan for the sector.
Any such measures may come too late for The Bill Murray, which opened in 2016 after the Angel Comedy Club raised more than £46,000 from a crowdfunding campaign.
In normal times, it provides a permanent comedy venue in addition to the seven-night-a-week club the Angel promoters ran at the nearby Camden Head and has boasted performances from the likes of Eddie Izzard, Mae Martin, Sindhu Vee, Stewart Lee, James Acaster, Romesh Ranganathan, Nish Kumar and Josie Long.
But in an email today, the team said: 'It has become clear in the last few days that Angel Comedy will not be able to survive the challenges of the Coronavirus. At least, not without your support.'
They say they need 2,000 people to donate £2.50 a month to cover its fixed costs, adding: 'The brutal fact is that without your support, we will fold.'
Outlining the position, they explained that the venture operates on such a narrow profit margin that they only had one month's operating costs in reserves, which they have now burned through. And they say that even taking advantage of an interest-free loan would be untenable, as even capital-only repayments would be too much.
The club received a one-off taxpayer-funded grant of £10,000 at the start of April which they will have spent by the end of next month, with no guarantee of future government support.
Most of the money is needed to cover the £4,200-a-month rent. Its landlord, a pub company, has agreed only to suspend rent, not waive it completely, so the fees will have to be repaid.
The venue is unlikely to be the only comedy venture in such a predicament, raising the question of how many sites can rely on charity to survive when so many good causes are pleading for donations.
Yesterday, New York comedy institution Upright Citizens' Brigade announced it was permanently shuttering its theatre, leaving it without a permanent presence in Manhattan for the first time in over 20 years.
During the Commons session today, Shadow Business Minister Ms Powell cited the Frog And Bucket as a business at risk, like hundreds more in her Manchester constituency, adding: 'Nearly three-quarters of hospitality businesses don't qualify for grants and for most, loans just aren't an option.
She asked Mr Raab: 'Given that the hospitality and retail sectors are the lifeblood of our high streets, and are likely to endure the longest government-enforced closure, will he extend cash grants and come up with a rescue package to stop thousands of pubs, restaurants, shops and venues from disappearing altogether?'
Standing in for a recuperating Boris Johnson, Mr Raab said: 'I certainly agree with her about the challenge we've got across all the sectors she mentioned in making sure we see them through this incredibly difficulty. We want to make sure all those businesses, all those sectors she mentions, bounce back.'
After repeating previously announced measures, he added: 'I will of course, if there are any particular businesses, take them away, look at them very carefully, and make sure that the chancellor can assess of there's any more that we can do.'
Thank you @LucyMPowell for fighting our corner today 👊🏼 pic.twitter.com/w7Ybdwqgxj

— Frog and Bucket MCR (@frogandbucket) April 22, 2020
Published: 22 Apr 2020
Recent News
What do you think?