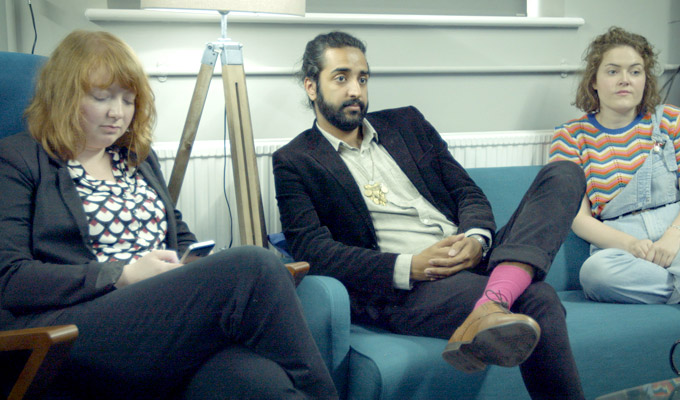 Web comedy Content moves to TV
An online sitcom featuring guest appearances by the likes of James Acaster, Joel Dommett and Lou Sanders has been picked up by TV channel London Live.
Content is based in a digital marketing agency with each ten-minute episode revolving around the team's attempts to create successful material despite their substantial inadequacies.
It was created by Yiannis Vassilakis, who said: 'I initially conceived of Content as a way to put my experiences in the industry to some creative use, and have a little fun with it; hardly expecting it would turn into the extraordinary feat of creativity it has.'
When originally released online in November, the six episodes were accompanied by spin-off material including a fictional podcast called Girly Boss, extra sketches and reaction vlogs from the characters.
Top comedy names, also including Mark Silcox, Ed Gamble, Annie McGrath and John Kearns made cameos, alongside the core cast of Belle Fage, Kath Hughes, Rajiv Karia, Molly McNerney and Vassilakis.
The show was made by Turtle Canyon Comedy, whose director Stuart Laws said: 'Making the transition to London Live is very exciting for us, it's a series we're very proud of and we think the episodes benefit from being watched on TV.
'There was such a positive response on initial release, the cast are so good and the writers' room put together such strong, funny episodes with a great blend of visual jokes, sharp dialogue and clever running jokes that I'm excited it will now be seen by a new audience.'
Two episodes of Content will be broadcast at 9pm over the next three Thursdays, starting on April 9. Or it is still available online with the bonus material.
London Live has a weekly reach of 890,000 people according to the latest BARB viewing figures, and can be found on Freeview channel 8, Sky 117, Virgin 159 and Youview 8.
Here's a trailer:
Published: 7 Apr 2020
What do you think?