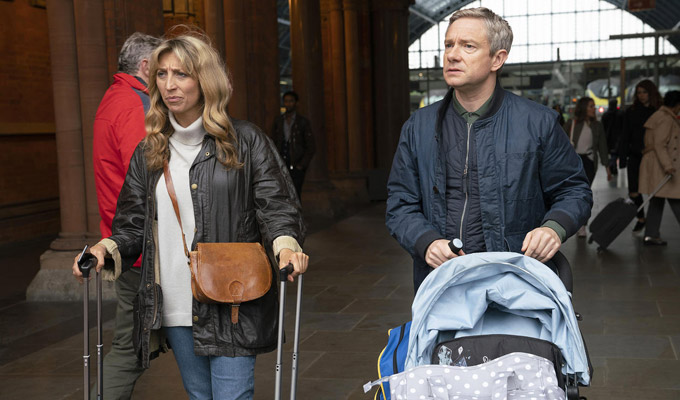 Exclusive: Breeders spawns a second series
Parenting sitcom Breeders is returning for a second series, Chortle can reveal.
Work on further episodes of the Sky comedy, starring Martin Freeman and Daisy Haggard, began last month.
Created by Freeman with The Thick Of It alumni Chris Addison and Simon Blackwell, the series will return for a further ten episodes.
The first season is currently airing on Sky one at 10pm on Thursdays after premiering in the US on FX.
News of the recommission is a further show of faith from Sky in its new sitcoms, following similarly quick recommissions for Intelligence and Brassic.
However, one Sky comedy that looks destined not to return is Karl Pilkington's split personality sitcom Sick Of It, following two series.
'I don't think there'll be any more, of this,' Pilkington told Lorraine Kelly on her ITV morning show. 'I think it's got a nice end and I really don't know what … I'm not one of those people who has a five-year plan. I'm not into lining up a job before I've finished the last.'
Having flirted with retirement in the past, he added that this might be 'the end' of his television career. 'You might never see me again.'
Breeders co-stars Spinal Tap's Michael McKean, with Alun Armstrong, Joanna Bacon, George Wakeman, Jayda Eyles and Patrick Baladi, It is made by Avalon, whose sitcoms credits include Catastrophe and Not Going Out, and has generally enjoyed strong reviews.
The Observer called it 'a triumph', while conceding that 'it's not a cosy watch'. The Daily Mail agreed that it was 'darkly funny', suggesting that it was bleaker than other cynical, parenting sitcoms such as Motherland and Outnumbered.
The Independent was more measured, feeling that 'the show's greatest strength is also its greatest weakness, however. The writers pack the script with wisecracks, wordplay and wit, and the pace can be pretty fast. But the very richness of the writing and the smoothness of the dialogue makes it feel just a touch too artificial.'
And The Telegraph was disappointed, comparing the show unfavourably to Motherland and Catastrophe. 'The credits for Breeders say "based on an original idea by Martin Freeman", but I'm buggered if I know what it is. It can't be the idea that kids are exhausting and exasperating to the point where you yearn to self-isolate with coronavirus just for the peace and quiet, because which parent hasn't felt that?'
You can read Chortle's review here.
Haggard is currently writing the second series of her own comedy, Back To Life, for the BBC and Showtime in the US.
And Freeman is to star in comedy-drama The Responder for BBC Two, playing a police officer working night shifts in 'Liverpool's crime underbelly' with a new partner. The series is the screenwriting debut of police officer-turned-novelist Tony Schumacher and is described as 'wildly funny and painfully tragic'.
A Sky spokesperson told Chortle that due to the coronavirus pandemic they were unable to comment on production at this time.
- by Jay Richardson
Published: 31 Mar 2020
What do you think?