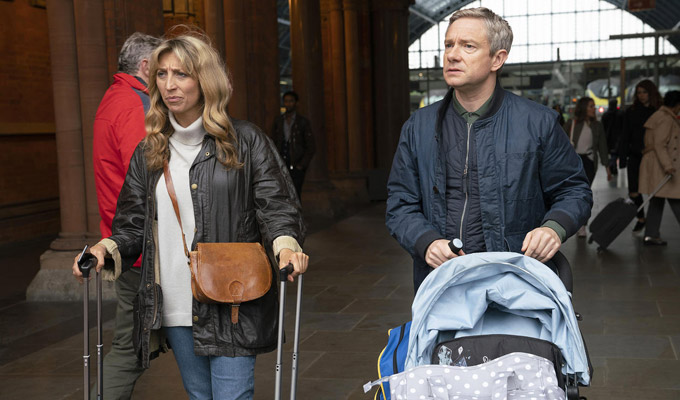 Breeders
Martin Freeman is the perennially good-natured screen everyman. But in the new Sky comedy Breeders, which he co-created, his character Paul is forced to concede: 'I'm not a nice man.'
What drove him to this realisation is children. 'I would die for those kids,' he tells his on-screen wife Ally (Daisy Haggard) 'But often I also want to kill them' – before revealing just how much he's thought about it, and in worrying detail.
That, simply put, is the premise for this new six-part series. Where the worst sitcom children tend to be portrayed as eye-rollingly irritating, here they are their parents' nemesis, their demands soaking up every waking moment… even when that moment is at 4am. The travails of parenting are not sugar-coated, but portrayed as a constant battle against an unreasonable, unrelenting enemy that truly brings out the worst in adults.
It's enough to test the patience of a saint, and certainly reduces to Paul to liberally swearing at his offspring. A bit too liberally, truth be told, as the onslaught of f-bombs becomes a distraction rather than a rare treat. Writers Simon Blackwell and Chris Addison are no strangers to flamboyant expletives, as veterans of The Thick Of It, but here it seems coarser.
Breeder shares another essence with that political comedy, in that it revolves around well-intentioned people being buffeted away from their worthy plans by the demands of constantly firefighting the latest crisis. But here, salving the unreasonable nerves of a delicately anxious son, for example, takes the place of hostile headlines.
With episode one focussing on the vain attempts to get their two children to sleep in the small hours, the grim semi-lit demimonde of their current life is contrasted with the sunny uplands of their previous, carefree lives in flashbacks, which serves to highlight the love between the leads, as well as illustrating how far things have changed.
With Freeman and Haggard you are guaranteed an easy likeability beneath the sleep-deprived irascibility; while there are plenty of strong supporting characters too. Freeman's erstwhile Office colleague Patrick Baladi is great as Ally's slightly creepy boss, envying their parenthood despite it all. And Alun Armstrong and Joanna Bacon as Paul's easygoing, nothing's-too-much-trouble parents are in perfect contrast to Ally's distant, self-centred mother (Stella Gonet).
As well as capturing the personality-warping effects of bringing up children, which even the most placid parent will surely identify with, Breeders is rich with memorable scenes and witty lines.
Ally describing her offspring as shitting mini-fridges – and that making perfect sense in context – is a special delight. And a slightly 'sitcommy' climax does nothing to deter you from wanting to see just how the couple continue to cope with the draining demands of family life. Badly, most probably…
• Breeders is on Sky One at 9pm tonight.
Review date: 12 Mar 2020
Reviewed by:
Recent Reviews
What do you think?