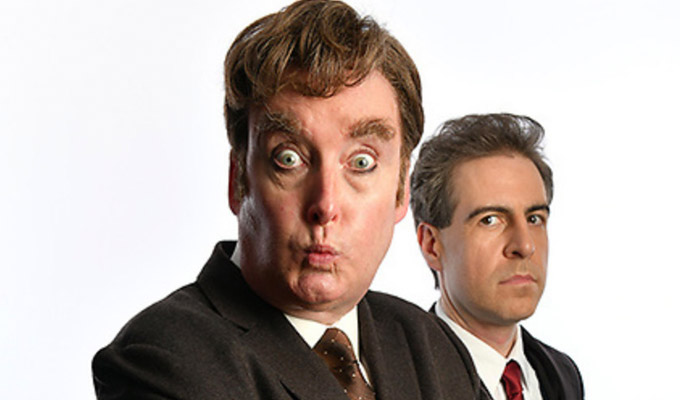 New Frankie Howerd play to open
A new play about the clandestine relationship between comedy legend Frankie Howerd and his lover Dennis Heymer is to have its world premiere next month.
Howerd's End examines the relationship – which lasted from the 1950s, when homosexuality was still illegal in the UK, to the comedian's death in 1992 – and will also feature recreations of Howerd's stand-up.
The comic will be played by Simon Cartwright, who has previously found a niche playing another British comedy legend, Bob Monkhouse at the Edinburgh Fringe, in Toast of London on Channel 4 and in Paul Hendy's short film The Last Laugh.
Heymer, who died in 2009, is played by the play's author Mark Farelly, who has written several plays about other celebrated gay figures: writer Patrick Hamilton, 'Naked Civil Servant' Quentin Crisp and filmmaker Derek Jarman.
Set in the living room of Wavering Down, the couple's Somerset home, the show had been scheduled to debut at the Greenwich Theatre in South London in 2017, to mark the centenary of Howerd's birth – but the production was cancelled after it was announced.
Howerd was previously the subject of a BBC biopic, Rather You Than Me, in 2008, when he was played by David Walliams .
Howerd's End will get its world premiere at Old Joint Stock Theatre, Birmingham from Wednesday April 8 to 12 and then play the following theatres.
Monday May 11: Whithorn, Dumfries and Galloway,
Monday July 13: Hospital Club, London
Friday July 17: Bedford, The Place
Friday July 24: Quay Theatre, Sudbury
Friday October: 2: Lichfield Garrick
Friday 23 & Saturday October 24: Everyman Theatre, Cheltenham
Published: 6 Mar 2020
What do you think?