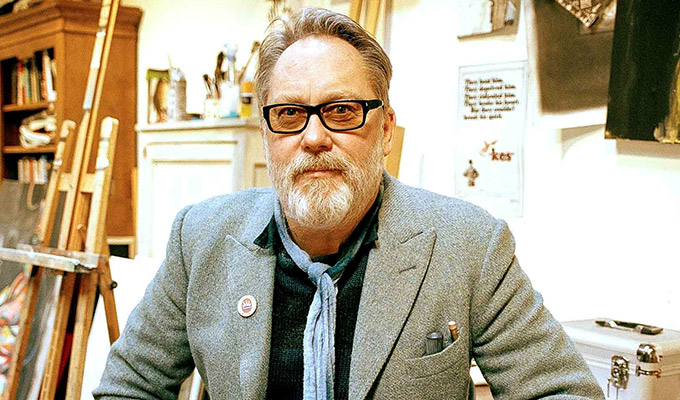 Vic's all art
Vic Reeves is to be the focus of a new film about artistic comedians, Chortle can reveal.
A Brush With Comedy is directed by the comic's son Louis Moir, and will feature Reeves discussing the relationship between his comedy and art.
Spencer Jones also appears in the documentary, speaking about his newfound love of painting. And Chortle understands that talks are under way with several other big-name comics about their participation.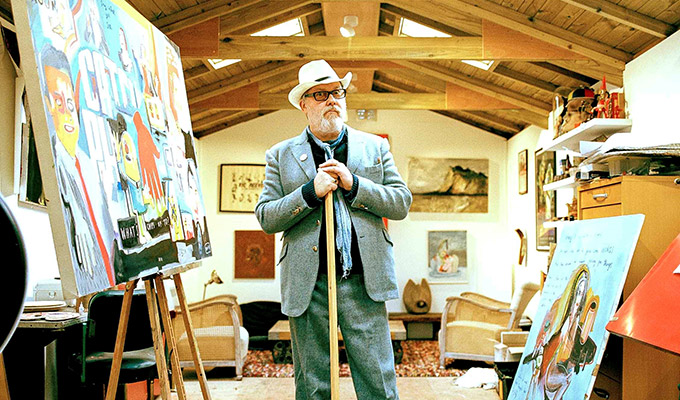 The 90-minute feature follows a crowdfunded short film of the same name, which explored the relationship between art and comedy through the eyes of Reeves, real name Jim Moir, and Noel Fielding.
The short was made by Louis Moir and producer Alex Page last year as a graduation film for their degree in film production at Arts University Bournemouth.
'There have been hundreds of documentaries on my dad as a comedian and actor. But no-one has ever really just completely looked at him as an artist' Moir told Chortle. 'And I see him as an artist, not as a comedian.
'The art world is really, really serious and I think art is about reactions. If it makes you laugh, great. And if you can make art that's funny, that's even better.
'My dad is very serious about the performance-artist aspect to comedy. He sees everything he does as an artistic outlet. One of the biggest inspirations for his comedy is Gilbert and George. He didn't watch comedy as a kid and didn't really want to be a comedian. He took inspiration from artists and old British films and I think that's really interesting. That's what we're trying to show.'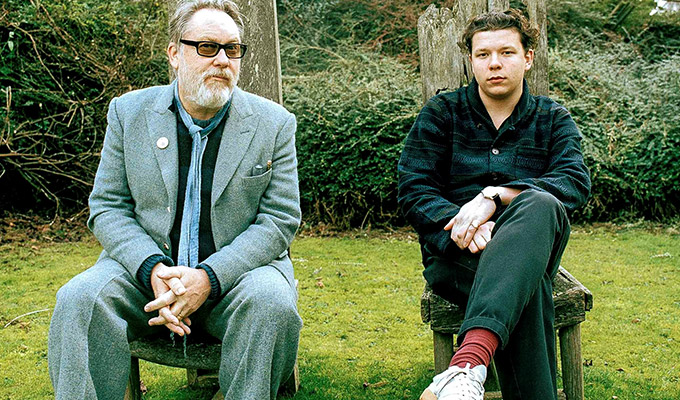 Interviewing one's father 'is a cathartic thing to do' adds Louis, pictured above with his dad. 'You're in a really strange space because it's a very professional environment with cameras and lights. But he's the person you know best of anyone. So it creates a strange dynamic, where you have questions you know that you're going to get a different answer to, because of who you are.
'Spencer is a really interesting guy as well. He's at the start of his journey into art. He started painting not too long ago, so we've got him at a point where his passion is just beginning and doing really interesting stuff. He says it's all art to him, whether it's a really good cross in football or a really good joke.'
A Brush With Comedy is produced by Page and Kevin Proctor for Studio POW, which made the stand-up comedy film Funny Cow, starring Maxine Peake and featuring Reeves and John Bishop.
The company is also developing Vic and Bob's film The Glove, about Michael Jackson's glove, as well as a film about the Cottingley Fairies from Garth Merenghi creator Matthew Holness and The Bunker Diary, produced by Bishop and adapted from the 2014 Carnegie Medal-winning young adult novel.
A Brush With Comedy's executive producer is Perry Trevers. The filmmakers plan to screen the documentary on the film festival circuit before shopping it around television channels.
Reeves has fronted a number of art-themed documentaries for BBC Four, most recently Jim Moir's Weird World of Video Art and Bauhaus Rules with Vic Reeves.
Currently exhibiting at the Grosvenor Gallery in London, he's also about to publish his first book in a decade dedicated to his paintings and pencil sketches.
Featuring more than 250 illustrations and billed as the 'definitive' collection of his work, Vic Reeves Art Book was successfully crowdfunded, with backers earning rewards that includes the comic drawing their portrait in their copy of the book.
Reeves was also one of the comedian-artists exhibiting as part of the Art Is The Best Medicine Show in December.
Curated by Annie McGrath at the Fiumano Clase gallery in London, the show also featured creations from Harry Hill, Josie Long, Jack Whitehall, Lolly Adefope and the artist formerly known as Joe Lycett, now Hugo Boss, among others.
Here's the trailer for the original short film A Brush With Comedy:
- by Jay Richardson
Pictures: Jack Dallas Chapman
Published: 6 Mar 2020
Recent News
What do you think?