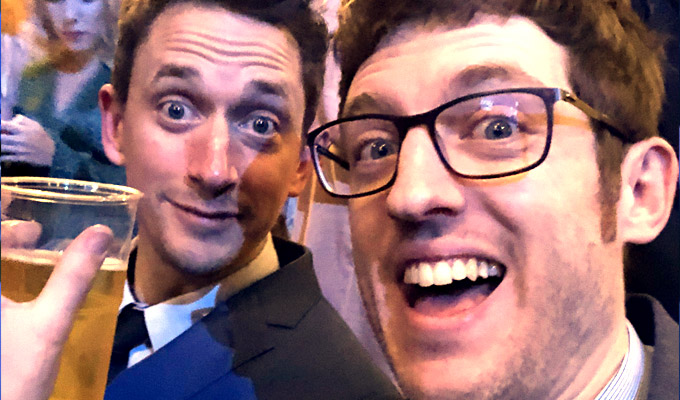 Elis James and John Robins have 'the funniest show on radio'
Elis James and John Robins have the funniest show on radio – according to the biggest awards in the business.
Their BBC Radio 5 Live scooped the accolade at the Audio and Radio Industry Awards (Arias) last night.
James tweeted the celebratory picture above from the bash, along with the self-effacing description of their show as: 'Two giggling, self-regarding twerps spouting incomprehensible garbage'.
The Radio 4 show James Veitch's Contractual Obligation scored the silver award in the same category while the bronze went to Rosie and Chris Ramsey's podcast Shagged Married Annoyed.
Comedian Toby Foster scooped best speech breakfast show for his programme on BBC Radio Sheffield.
But he revealed on Twitter that he missed the big announcement as he had to leave the ceremony at London Palladium because he was having a 'massive ADHD meltdown' and went walking around the capital to calm his mind.
This morning Foster – who runs Sheffield's Last Laugh comedy club, added: 'So sorry to have to leave the award do last night. Had a full-on meltdown. Too many triggers, too much going off. Walked round London for hours calming down! Congratulations to all the fantastic team.
'Anyway, totally thrilled to have won the big one. Amazed. Top team, great grafters, and we genuinely come to work to have fun. It's all about the listeners.'
Fellow stand-up Jacob Hawley also won a silver award for best new presenter for his BBC Sounds podcast Jacob Hawley: On Drugs,
Published: 5 Mar 2020
Recent News
What do you think?