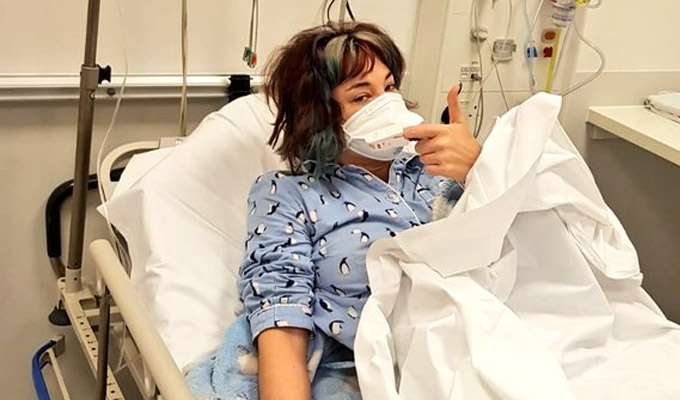 Bec Hill quarantined in coronavirus scare
Comedian Bec Hill has had to cancel a week's worth of gigs after being quarantined for suspected coronavirus.
In a series of posts on Twitter the stand-up revealed that she started to feel unwell after co-hosting the Comic Con fan convention in Brussels last weekend.
She wrote: 'It's normal to get sick after these things. Little sleep, lots of handshaking, over-excitement, European cheek-kisses, rubbing up against fellow nerds for 2 days.
'But as the day progressed, I started to feel worse than usual. A fever, a cough, trouble breathing. I just figured it was a bad one until I noticed the sign at Eurostar customs. I wasn't worried until I realised I'd passed through Hong Kong 12 days previously.'
She called NHS Direct, who said she should go to hospital - and despatched an ambulance. There she underwent tests before being put in an isolation room.
The comic – whose credits include a recent appearance on the Jonathan Ross Show – spent two days there, and wrote: 'You'd think quarantine would be boring, but in all honesty, I just slept for ages. I had some weird dreams thanks to the fever, so that kept me entertained enough.'
Swab tests confirmed she had the flu 'which didn't clear me of coronavirus, but lowered my chances' so she was sent home – and eventually given the all-clear for Covid-19. Although she still has the flu to shake.
So You Might Have Coronavirus and You've Been Quarantined
a.k.a.
Why I Had To Cancel My Gigs This Week: A Thread pic.twitter.com/3fiiXJ44Ch

— Bec Hill (@bechillcomedian) February 27, 2020
She added: 'I had to cancel over £500 worth of gigs this week and all of this could have been avoided if I'd paid the £14 (or whatever it is) for my flu jab at the pharmacist. If you're freelance like me, do it. I skipped the last one because I got cocky. Never again.'
The jab is actually £6 at Lloyds Pharmacies or £12.99 at Boots.
Published: 28 Feb 2020
What do you think?