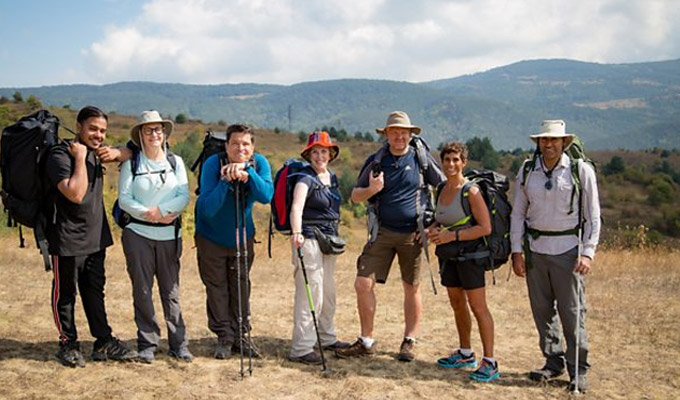 Pilgrimage for Dom Joly and Pauline McLynn
Dom Joly and Father Ted star Pauline McLynn are to join BBC Twos next Pilgrimage.
The pair will trek from Belgrade, through Bulgaria and the mountainous Balkans and into Turkey as they follow a 1,000km route to the magnificent Suleymaniye Mosque in Istanbul.
Also taking part are broadcaster Adrian Chiles, a converted Catholic; former politician Edwina Currie, a lapsed Jew; Olympian Fatima Whitbread, a practising Christian; broadcaster Mim Shaikh and television presenter Amar Latif, both Muslims.
Trigger Happy TV star Joly and McLynn, who played Mrs Doyle in Father Ted alongside other credits such as Shameless and Trollied, are both atheists.
The three-part series, to air this spring, follows previous pilgrimages to Santiago and Rome that have featured Ed Byrne, Katy Brand, Les Dennis and Stephen K Amos – who was reduced to tears by an encounter with the Pope.
Caroline Matthews of programme-makers CTVC, sad: 'I am absolutely delighted Pilgrimage is back for a third series. And in a twist to the previous two, we're immersing our new celebrity pilgrims in an ancient military route which has been very recently transformed into a modern-day path of peace.
'Pilgrimage: The Road To Istanbul has everything we've come to love about the series; vigorous debates, back to basic living and a good dose of humour.'
Daisy Scalchi, the BBC's commissioning editor, for religious shows, says: 'The range of beliefs and backgrounds of all seven pilgrims, with their similarities and differences, show that the questions at the heart of religion are relevant to all of us, regardless of faith.'
Published: 25 Feb 2020
What do you think?