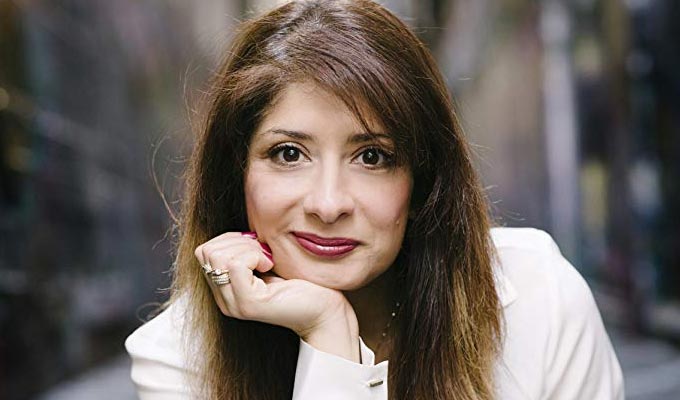 Shappi Khorsandi set to play the queen's mother
Shappi Khorsandi is being lined up to play the mother of drag queen Glamrou in a semi-autobiographical TV comedy, Chortle can reveal.
The comic and the founder of drag girlband Denim have shot a taster pilot, Nefertiti, with Big Talk, the production company that made Cold Feet, Spaced and Black Books.
Also featuring character comic Abbie Murphy, the show blends narrative elements with excerpts of stand-up and musical performances.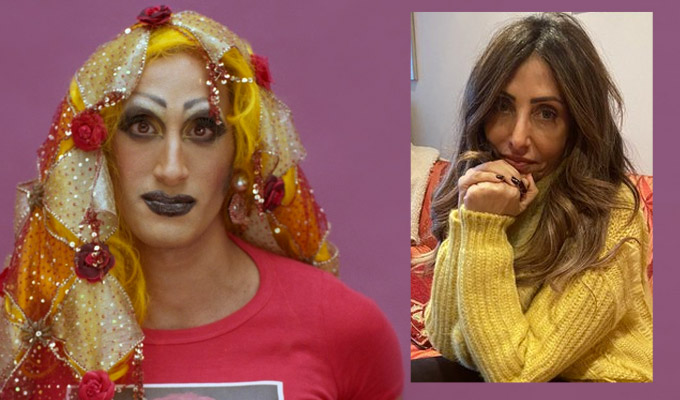 Glamrou and mum
Glamrou, otherwise known as Amrou Al-Kadhi, plays a second generation British-Iraqi-Egyptian living with a strict, conservative Arab mother, played by Khorsandi. But Amir lives a double life as Nefertiti, an elegant and decadent drag queen.
Described as 'contemporary, provocative and joyful ... embracing the mischief of identity', the series pits the conservative Manchester Arab community against the riotous Soho drag scene.
Khorsandi has described her character's inspiration as 'regal.
'Crumbs she's beautiful! And tiny,' she wrote on Twitter underneath a photo of Al-Kadhi's 'mama'. And she told them, 'you look so much like her!'
Crumbs she's beautiful! And tiny. You look so much like her!

— Shappi Khorsandi (@ShappiKhorsandi) January 3, 2020
The comedy is described as blending 'the challenging queer politics of Transparent with the cultural specificity of Chewing Gum'. The pilot was written by Al-Kadhi with Matthew Hammett Knott.
Nefertiti, which has been in development with Big Talk for more than three years is directed by Jamie Adams, whose credits include the pilot for Tim Renkow's sitcom Jerk, and produced by Timewasters' Victoria Grew,
Al-Kadhi appeared in Steven Spielberg's Munich as a 14-year-old, playing a terrorist's son, as a Patsy 'drag-alike' in Absolutely Fabulous: The Movie and on Comedy Central's Roast Battle as Glamrou earlier this month.
But Nefertiti would represent a first significant screen role for the performer, who created their drag queen alter-ego at 20 and founded the five-strong Denim while studying at Cambridge University, but has complained about being typecast.
In a 2016 article for the Independent, Al-Kadhi lamented that 'not only do casting directors regularly call me in to play terrorists (over 20 to date), but – WAIT FOR IT – psychologically profound characters such as "Suspicious Bearded Man on Train" & "Screaming Arabic Man with Weapon.
'As a way out of the racial wormhole of the casting industry, I've found the only option is to write roles for myself.'
Nefertiti's pilot follows publication of Unicorn: The Memoir of a Muslim Drag Queen in October, chronicling Al-Kadhi's struggle to reconcile the conflict between Islam and queer identity, via some maternal assistance and studying at Eton.
Glamrou's debut live solo show, From Quran To Queen, will be at London's Vault Festival on February 19 and 20, ahead of a week of shows at the Soho Theatre from March 16.
Al-Kadhi is also developing a comedy-drama, Beard, about a queer relationship, with Game of Thrones star Ellie Kendrick, which the pair would write and star in. That's in addition to working on the film Layla, a contemporary Romeo and Juliet tale with Film4, and Molly Boy with BBC Films.
As a writer, Al-Kadhi previously co-wrote an episode of Apple TV+'s Little America anthology series, about a gay asylum seeker from Syria, that had to be filmed in Canada as some of the cast were not allowed into the US and was subsequently banned in 10 Arabian countries and Russia.
In an interview with Pink News, Al-Kadhi said: 'Getting work commissioned as a queer person of colour is 10 times harder than if you're a white straight writer.
'For some reason, commissioners expect 100 times more of your work to justify spending the money on it – if it's a comedy, every line has to be genius; if it's a drama, they want it to be full of earth-shattering trauma.'
- by Jay Richardson
Published: 11 Feb 2020
What do you think?