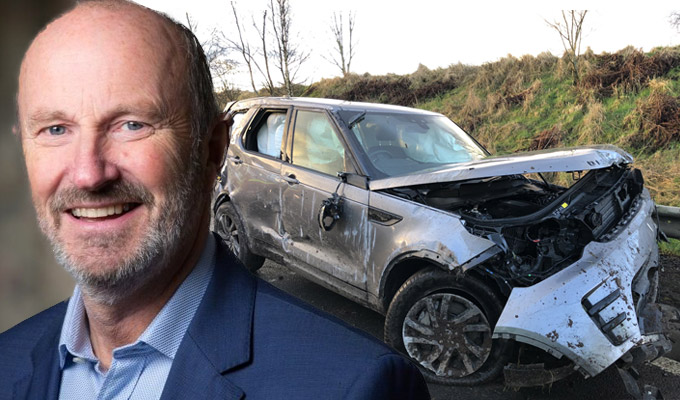 Fred MacAulay reveals horror crash
Fred MacAulay has shared images of a horrific crash he was involved in last week.
The photographs show a badly damaged Land Rover discovery, with its front almost ripped off and severe scratches and dents, mainly across the driver side. All the airbags had also inflated
The 63-year-old comedian was lucky to walk way with bruised ribs in the accident on the A9 last Tuesday.
Pictures he shared on Twitter show the road closed and emergency services on the scene
He tweeted: 'This is going to be a better week than last week. A9. Tuesday morning. My thanks to emergency services and A&E. Walked away with bruised ribs.'
Fellow comics expressed their shock and support.
Richard Herring wrote: 'Shit mate! Very glad you walked away from that'; Dara O Briain said: 'Jesus wept Fred, I'm relieved, and amazed, you're still with us; Greg McHugh added: 'Bloody hell! Looks like a close one- hope you're on the mend!'; And Mark Watson wrote: 'Holy shit mate, even for a no-nonsense Scot that doesn't look like one you'd "walk away from" at all.'
The crash happened at about 8am near Dunblane, and involved another vehicle. There were no reports of other injuries and police spent more than three hours clearing up the scene.
A man was killed very close to the same spot almost three years ago.
Published: 10 Feb 2020
What do you think?