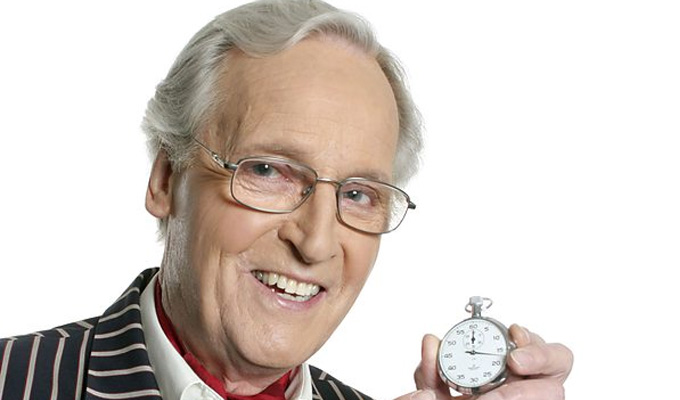 'A broadcasting giant who proved that the straight man could be the real star of comedy'
Tributes have been flooding in for Nicholas Parsons, who died in the early hours of this morning at the age of 96. Here are just some of them:
Stephen Fry: 'Oh no. Nicholas Parsons gone? He ruled Just A Minute for Just a Lifetime. A stunning achievement: never scripted, always immaculate. From comedian's sidekick to great institution, via Sale of the Century & much more. Unrivalled continuity, professionalism & commitment. Farewell.'
Gyles Brandreth: 'The end of an era. Nicholas Parsons was such a lovely man - and so versatile: actor, entertainer, writer, TV star & radio host without equal, but for me, most of all, friend. I knew him for more than 50 years: he was simply the best. Thinking of his wonderful wife Annie & family.'
Graham Norton: 'The sound of the final whistle. Nicholas Parsons was truly the kindest and most generous person I've ever worked with. His continued delight at being a part of show business should be an inspiration to us all! Huge love to his wife Annie and his whole family.'
Andrew Neil: 'So sad to learn of the death of Nicholas Parsons, though at 96 it was a pretty impressive innings. I last saw him a year ago and he was in great form. A more friendly, generous, polite and solicitous person you could not hope to meet.'
Neil Gaiman: 'Heartbroken. I was thrilled to have been able to work with Nicholas Parsons on Good Omens. I sort of directed him, but the direction was basically "You're Nicholas Parsons so do that." Kind and professional and a pleasure to work with. So sad.'
Nick Robinson: 'Without hesitation, deviation or repetition I'd like to say that Nicholas Parsons was a broadcasting giant who proved that the straight man could be the real star of comedy. Will be hugely missed by all who work at & love @BBCRadio4.'
Mohit Bakaya, Controller of BBC Radio 4: 'Nicholas Parsons was one of the greats, a first-class broadcaster and an icon in the world of British comedy. Nicholas always brought his sharp wit, brilliant poise and warmth to everything he did.'
Angela Barnes: 'I won't hesitate or deviate but I will repeat that Nicholas Parsons is a bona fide legend. I'm so honoured to have met and worked with him and it's a sad, sad (repetition of sad) day for radio comedy. Goodnight Sir, you will be missed.'
Chris Neill, comedian and former Just A Minute producer: 'What a brilliant life. Nicholas Parsons had met everyone, worked with them all. But his longevity meant in many ways he was much underrated. He should have been knighted years ago. Much love to his glorious, beloved Annie and the family.'
Chris Addison: 'Years ago I was due to do Just A Minute and had to cancel at the last minute because of Unexpected Developments in the run up to the birth of one of my kids. The next day, Nicholas Parsons called to make sure everything was all right and ask if we needed anything. RIP, you gent.'
Ross Noble: 'RIP Nicholas Parsons.I was 21 when we first worked together and I will never forget how welcoming he was to me and others like me. He was a born performer who lived to be on stage and never lost his love of being infront of a crowd. A true gent. He will be greatly missed'
Danny Wallace: 'Nicholas Parsons once gave me the best piece of showbiz advice, in the wings one minute before a recording. "If you're ever worried you might get a dry throat," he whispered, conspiratorially. "Just have a little sip of water."'
Rufus Hound: 'Farewell to Nicholas Parsons - the absolute embodiment of the dapper British gent, whose kind words, encouragement and support over the last few years were one of the most unexpected and flattering experiences of my life. A bloody good chap.'
Paul Sinha: 'Farewell Nicholas Parsons. Thanks for being magnificent.'
Robin Ince: 'Instead of a minute's silence, you must now talk about Nicholas Parsons for one minute and you know the rules.'
Rachel Parris: 'At the Chortle Awards 2016, the room was cacophonous, everyone was talking over the winners as usual, all night, until Nicholas Parsons won an award, and a reverent hush fell over the whole room followed by a thunderous standing ovation. Even drunk comics know true quality.'
And here's Paul Merton paying sincere tribute when he received a lifetime achievement award from the Broadcasting Press Guild last year:
Published: 28 Jan 2020
What do you think?