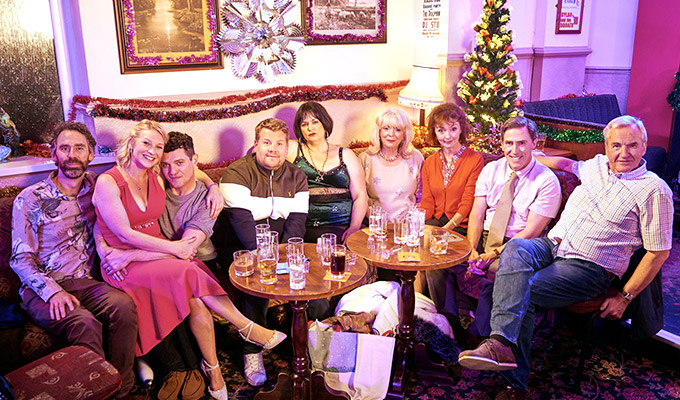 BBC says Gavin & Stacey is its biggest show 'since records began'
The BBC says the Gavin & Stacey Christmas special has attracted the biggest audience for any of its TV programmes outside of sporting and national events 'since records began'.
And the success has prompted creators James Corden and Ruth Jones to tease a possible follow-up.
Consolidated figures including catch-up viewing in the 28 days since its broadcast show the comedy has been seen by 18.5million people across TV, catch-up an on-demand services.
The 'since records began' claim is probably misleading as it refers to the time since 2002, when the way audiences were counted was changed. The BBC initially claimed it was the biggest audience for any scripted or reality programme since then, but when challenged by Chortle conceded that a 2003 episode of Coronation Street episode beat it, scoring 19.43million viewers.
And several shows before the 2002 watershed dwarf the new ratings, including by the 1986 Christmas Day edition of EastEnders (30.15million), Corrie exactly a year later (26.65million) and the 1996 Only Fools And Horses episode Time On Our Hands (24.35million). The biggest ever British TV audience was the 1966 World Cup final, seen by 32.3million people across BBC and ITV.
In a joint statement today Corden and Jones said: 'It's mind-blowing that so many people watched our show - we still can't get our heads round it, what a massive compliment.
'We are indebted to the BBC for their incredible support but most importantly to those 18.5 million viewers for watching. We just hope one day we can let them know what Smithy said next…'
In 2002, ratings company Barb changed all of the 5,300 households it uses as a sample to gauge audiences to better reflect the population of the UK
Charlotte Moore, the director of BBC Content, said: 'These incredible viewing figures demonstrate the power of British comedy and the love for Gavin and Stacey. I want to thank James and Ruth for this gem and like everyone I'm longing to find out what happens next!"
Shane Allen, controller of comedy commissioning for the BBC added: 'I'm delighted for Ruth and James that their terrific comic creation is more adored than ever. BBC One really does bring the nation together, and these figures are testament to iPlayer's role in bringing our hit shows to new generations of fans.'
Gavin & Stacey Christmas Special was written and created by Ruth Jones and James Corden, and made by Tidy and Fulwell 73 productions.
Published: 27 Jan 2020
What do you think?