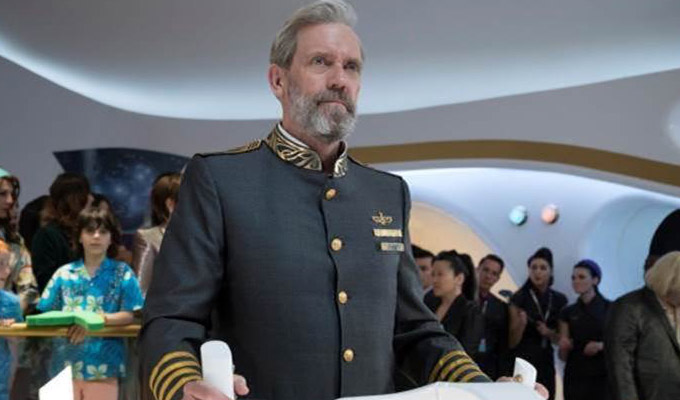 Sky finds space for Armando Iannucci's new comedy
The best of the week's comedy on TV and radio.
Monday January 20
ROAST BATTLE: The slam showdown returns for a fourth series… and this time Jimmy Carr and Katherine Ryan are joined by a different guest judge in each episode. Tonight Noel Fielding helps adjudicate between stand-up Laura Lexx and her comedian husband Tom Livingstone, and RuPaul's Drag Race UK contestants Baga Chipz and The Vivienne in a showdown with queens Glamrou And Crystal. Line-ups for the rest of the series are here. Comedy Central, 10pm
Wednesday January 22
AVENUE 5: In his new comedy Armando Iannucci imagines what would happen if the maverick Silicon Valley types tried to get into the space tourism industry. Hugh Laurie stars as captain of the luxury space cruise liner Avenue 5, which boasts gourmet buffets, a spa, yoga classes and an observation deck to watch the planets fly past But then the ship encounters technical difficulties which the crew must deal with, complicated by the fact that the eccentric billionaire owner of the craft, Harman Judd (played by Josh Gad), is aboard. Sky One, 10pm.
Thursday January 23
THE DAD WHO FELL TO EARTH: Radio 4 Extra repeats this 2015 comedy-drama from stand-up and Doctor Who expert Toby Hadoke - about a man who is struggling to come to terms with his dad's sudden death when he finds out that he was secretly an alien from a distant planet. Starring Ronald Pickup as Russell. Radio 4 Extra, 11.15 am
Friday January 24
NO GODS NO GOLF: A new sitcom pilot set in Brighton, written by Zoe Lyons. She stars, too, as a legal aid solicitor, also called Zoe, who is being stalked by an ex-client... whom she defended on a stalking charge. The cast includes a plethora of comedians: Terry Alderton, Angela Barnes, Jenny Bede, Michael Fabbri, Selena Griffiths, Jon Pointing, Steve Speirs and Sue Vincent and is even produced by a stand-up, Barry Castagnola. Radio 4, 11.30am
Published: 19 Jan 2020
What do you think?