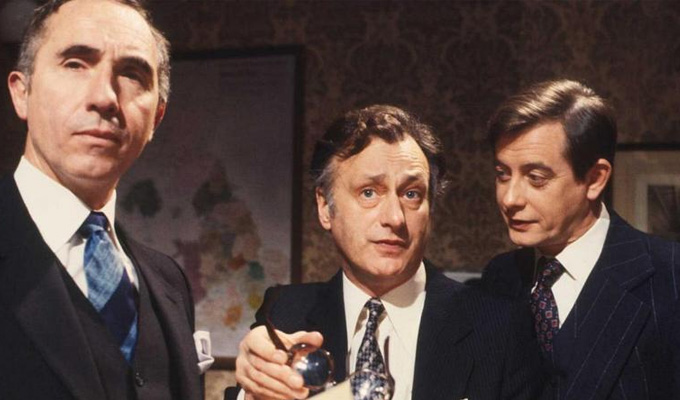 Yes Minister star Derek Fowlds dies at 82
Yes Minister star Derek Fowlds has died at the age of 82, his family has confirmed.
The actor – who came to fame as Basil Brush's human sidekick – was also known for starring as Oscar Blaketon in Heartbeat for 18 years.
His other credits include playing Lord Randolph Churchill in the ITV series Edward the Seventh in 1975, the lead role in the 1980s sitcom Affairs of the Heart and the 1990 political thriller Die Kinder.
But for many he will always be Bernard Woolley in Yes Minister, the Principal Private Secretary to Minister Jim Hacker, as played by Paul Eddington, and sometimes at odds with his civil service boss, Sir Humphrey Appleby, played by Nigel Hawthorne. Eddington died in 1995 and Hawthorne in 2001.
Fowlds trained at RADA where he was a contemporary of Edward Fox, Tom Courtenay, John Hurt and Ian McShane.
Speaking at the release of his autobiography four years ago, Folds said:
"I started out in West End plays... then I started to get gigs on TV. When The Basil Brush Show came up, I didn't think I wanted to work with a puppet, but I went to the audition and this fox jumped on my shoulder and said, "Hello, Mr Derek".
'Although I loved working with Ivan Owen, who operated Basil, I never intended to do more than one series. But by then I had two small boys with my then wife and during the second series I became charmed by Basil, so I stayed for eight series and two Royal Variety Performances.
'I was offered Yes Minister in 1979 and it was a huge hit. The scripts were brilliant, and Paul Eddington and Nigel Hawthorne and I became close friends and had so many laughs. We used to film before a live audience on a Sunday evening, which was nerve-racking.'
He was married to Wendy Tory and Blue Peter presenter Lesley Judd, and leaves behind two children including the actor Jeremy Fowlds. His partner of 36 years Jo, died in 2012, having being diagnosed with cancer two years previously.
Among those paying tribute today were Gavin & Stacey actor Larry Lamb, who tweeted: 'A dear old colleague passed on today ..Derek Fowlds was a truly lovely man and a fantastic actor .. my condolences to all his family and friends...a REAL legend LL'
And the official Basil Brush account tweeted: 'I don't know what to say, I'm so desperately sad. Such times we had, rest in peace Mr Derek, my best friend forever.'
Published: 17 Jan 2020
What do you think?