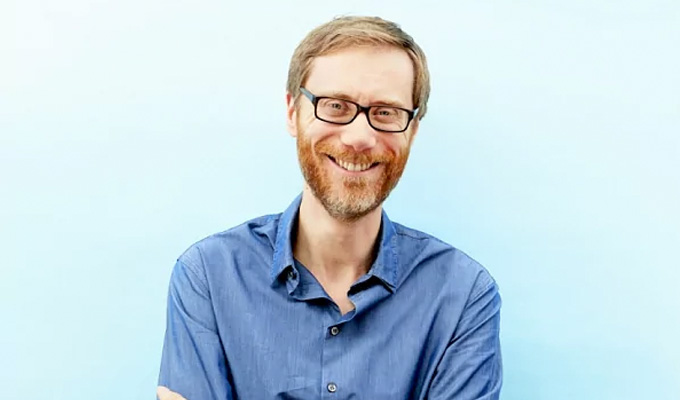 Stephen Merchant joins forces with a former gang member
Stephen Merchant's forthcoming BBC comedy-drama The Offenders is to get a worldwide release on Amazon.
The internet giant has become a co-producer of the show – originally revealed last August – which revolves around seven strangers doing court-ordered community service
Set in Merchant's native Bristol, the six-part series has been described as a 'crime thriller-meets-state-of-the-nation commentary' – as the plot involves the group taking on one of the city's most dangerous criminal gangs.
The Office co-creator is writing the series with Elgin James, a former US gang member who co-created the American TV show Mayans M.C.
James was a a member of the Boston-based gang called FSU, which originally stood for Fuck Shit Up but came to be known as Friends Stand United.
Classed by the FBI as a street gang, the group took on white power skinheads and drug dealers, whom James would rob and give half the money to local charities. Gang members also traded handguns with gangs for pit bulls used in dog fighting, who would nursed back to health.
Merchant, who will also direct the new series and play a plays a kerb-crawler, said: 'The Offenders is a long-standing passion project for me.
'My parents used to work in the community service world and I was always intrigued that the many and varied people they dealt with only had one thing in common: they'd committed a crime.
'Ever since The Office, I love finding ways to bring unlikely groups of people together and watch the sparks fly. As a writer, I always include humour but with The Offenders, I also get to add drama, pathos, crime genre thrills and say something optimistic about the common humanity that unites us all, whatever our background.'
'The Offenders' mix of light and shade, dark and comic, middle-class angst with inner-city grit, reflects the unlikely partnership of me and Elgin. I grew up in suburbia whereas Elgin spent his early life building a national street gang until a police investigation landed him in prison.
'Despite coming from different sides of the tracks, Elgin and I share a love of convincing characters and authentic, engaging, human stories.'
The show is being made by Cold Feet, Friday Night Dinner and Shaun Of The Dead producers Big Talk, whose chief executive Kenton Allen called The Offenders 'a very distinctive and eye-catching show'.
Kate Daughton, head of BBC comedy added: 'The BBC One audience are in for an absolute treat with Stephen Merchant's gripping world rich with heart, humour and stand out characters.
'Among the deftly woven plots, high jinks, unlikely friendships and big belly laughs are very human stories about loyalty, truth and family.'
The Offenders production credits
Made by: Big Talk and Four Eyes
Created by: Stephen Merchant and Elgin James
Executive producers: Stephen Merchant for Four Eyes, Luke Alkin Kenton Allen and Matthew Justice for Big Talk
Commissioning Editor for the BBC: Kate Daughton
Lead director: Stephen Merchant
Producer: Nickie Sault
Commissioned for the BBC by: Charlotte Moore, BBC Director of Content; Shane Allen, BBC Controller, Comedy Commissioning; and Kate Daughton, BBC Head of Comedy.
Published: 6 Jan 2020
What do you think?