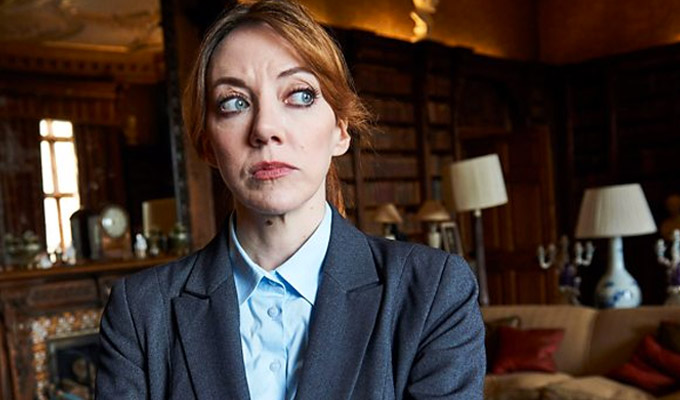 Philomena Cunk's back!
Philomena Cunk is to look back at the events of the year in a new BBC Two special.
Diane Morgan's alter-ego will be joined by fellow fictional talking head Barry Shitpeas – as played by director Al Campbell – as well as new characters.
The programme – entitled Cunk & Other Humans on 2019: Jumbo All-in-One Edition – is written by Charlie Brooker, Ben Caudell, Charlie George, Eli Goldstone, Mollie Goodfellow, Jason Hazeley, and stand-up Kae Kurd.
Brooker previously presented an end-of-year round up as part of his Wipe series every year between 2010 and 2016 – but stopped making the show in 2017 because of other commitments, notably Black Mirror.
The Cunk show is being made by House of Tomorrow, the production house run by Brooker and Annabel Jones.
According to the official blurb: '2019 wasn't the best year ever, or even vaguely tolerable, but one thing we can all agree on is that it definitely happened. Join Philomena Cunk, Barry Shitpeas, and a galaxy of two other new faces as they take a look back at the major events of our 2019th year since the birth of Christ.
'May include Brexit, Joker, Brexit, Theresa May, Brexit, Prince Andrew, Brexit, climate change, Corbyn v Johnson, Trump, Brexit, Game Of Thrones, Brexit and - time permitting - Brexit.'
No broadcast date has yet been confirmed.
Cunk was last on TV fronting the five-part historical mockumentary Cunk On Britain in 2018.
Published: 3 Dec 2019
What do you think?