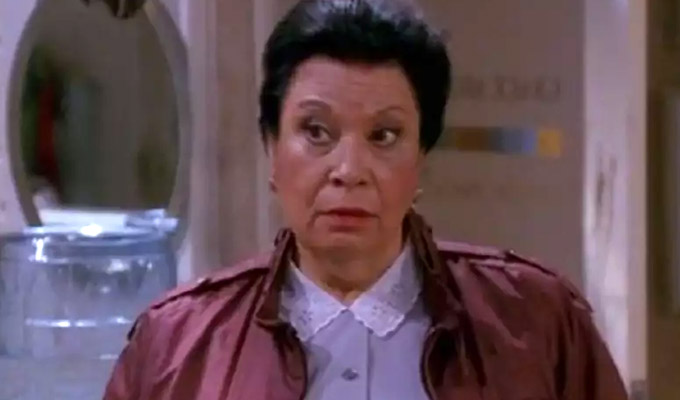 Will & Grace's Rosario dies at 83
Shelley Morrison, who played maid Rosario in Will and Grace, has died at the age 83.
She played the character, an illegal immigrant from El Salvador, in 68 episodes of the sitcom from 1999 to 2006.
Megan Mullally, who played her boss Karen, said: 'My heart is heavy… thank you for your friendship & partnership, Shell. You accomplished wonderful things in this world. You will be missed.'
And Debra Messing, who plays Grace, posted on Instagram: 'Oh, Shelley... what a loss."
'Our dear Rosario has passed on. Shelley had a career that spanned decades, but she will always be our dear Rosie.
'She was a kind soul with a huge heart and always had a smile on her face. All my love to Walter and the entire family.'
Sean Hayes, who plays Jack, added: 'Such sad news. Our beloved Shelley Morrison passed away today. She was absolutely hilarious and had the biggest heart. She was a part of our Will and Grace family and will be greatly missed. My heart goes out to her entire family.'
The role was originally created for a brief one-episode appearance, but Rosario was so popular with viewers that she became a recurring character.
However, she did not appear in the recent reboot of the sitcom as she had grown tired of being typecast, and eventually decided to retire. Over her career, she played a maid in 32 different films and TV shows.
She was also a regular performer on the sitcom The Flying Nun, playing Sister Sixto, a nun known mostly for mangling the English language; and appeared in the 1997 romcom Fools Rush In, starring Salma Hayek and Matthew Perry.
Morrison had a mastectomy for breast cancer in 1998; and she died at Cedars-Sinai Medical Center in Los Angeles yesterday s a result of heart failure.
Published: 2 Dec 2019
What do you think?