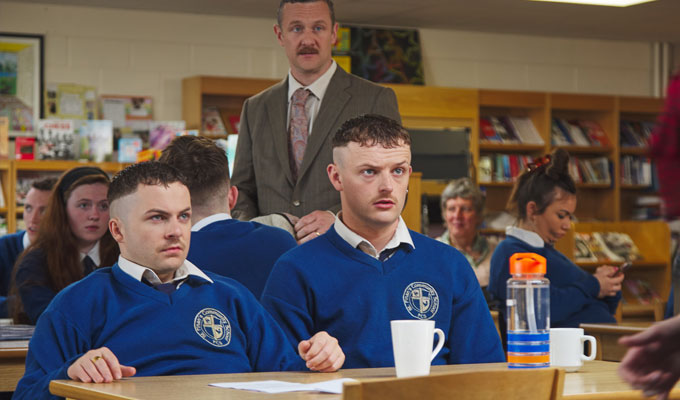 Third series for The Young Offenders
The Young Offenders is returning for a third series next year, Chortle can reveal.
Additional episodes of the comedy about criminal teenagers in Cork were filmed back-to-back with the current series over the summer.
Chris Walley and Alex Murphy will return as incorrigible delinquents Jock and Conor, as will Hilary Rose as Mairéad, Conor's mother and Jock's foster mother. No further cast details have been revealed.
Series two – which featured a cameo from Cork football legend Roy Keane – ended with Jock's girlfriend Siobahn (Jennifer Barry) about to give birth.
It is currently airing on BBC One after being released as a box set on BBC Three's iPlayer channel earlier this month, attracting 4.1 million requests so far. Series one and last year's Christmas special have attracted 17.6 million requests to date.
Peter Foott – who writes, directs and executive produces the series, which is a spin-off from his own 2016 movie – said: 'We are so grateful to BBC Three and thrilled that they had such faith in the stories and characters of The Young Offenders that they commissioned a third series from us.
'We can't wait for everyone to see more of Conor, Jock, Mairéad and all the characters next year in our third series. We've been really amazed at the huge reaction to series two so far, and we're so happy that we can officially announce that there's more on the way for fans of the show.'
The Young Offenders – which also airs on RTÉ 2 in Ireland – has been a critical hit, too.
Awarding the second series four stars, the Irish Independent placed Walley and Murphy 'in the grand tradition of screen comedy's greatest pairing, Laurel and Hardy.
And the Guardian called it 'a delightful, if coarse, rites-of-passage thing' and 'clearly operating according to its own charmingly barmy rules – and is all the better for it.'
Head of BBC comedy Kate Daughton said: 'Young Offenders is spit-your-tea out funny and heartbreakingly emotional. A rare combination that's testament to the talents and passion of a very special cast, crew and writing team, led by creator and show-runner Peter Foott. We can't wait to share series three – Cork's finest have never looked finer.'
Fiona Campbell, controller of BBC Three, added: 'At BBC Three, we love championing local voices and The Young Offenders are a brilliant success story for us. With great characters and on-point writing that is hugely relatable to our audience, we're delighted they're coming back for another series.'
The Young Offenders production credits
Created and written by: Peter Foott
Made by: Vico Films
Executive producer: Peter Foott
Producer: Tim Whitby
Commissioned by: Shane Allen, Controller of Comedy Commissioning and Fiona Campbell, Controller for BBC Three.
Commissioning editor for the BBC: Alex Moody.
By Jay Richardson
Published: 22 Nov 2019
What do you think?