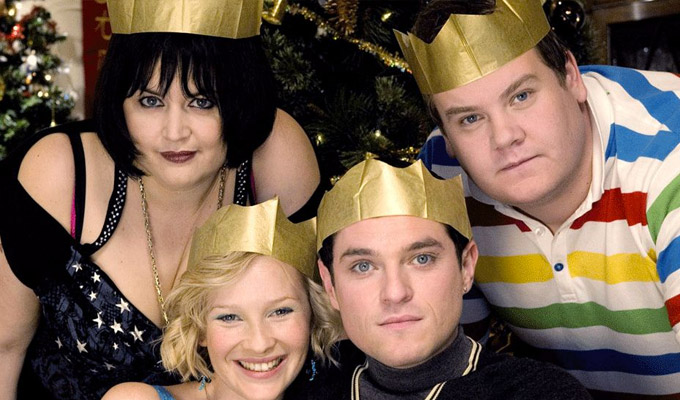 ITV turned down Gavin & Stacey – because it was set in Wales
‎⬛ EXCLUSIVE
ITV turned down Gavin & Stacey – because it was set in Wales.
Before taking their show to the BBC, Ruth Jones and James Corden pitched their idea to ITV's head of comedy who thought it was 'fantastic'.
But her bosses vetoed it, fearing a show set in Barry and Essex would not appeal to a mainstream audience.
The executive, Sioned Wiliam, reveals in a new TV documentary: 'Ruth and James came to see me with Gavin & Stacey, because they were in an ITV show called Fat Friends at the time.
'I thought it was fantastic and tried to get it made by ITV, but was told that probably it wouldn't be broadly accessible enough, because it was Welsh.'
The decision was the broadcaster's loss, as Gavin & Stacey became one of the BBC's biggest comedy hits, with the last episodes over Christmas 2009 attracting more than 10million viewers.
And the show will be returning to BBC One for a Christmas Day special this year, which received its first screening for the cast and selected journalists this week.
Wiliam, who grew up in Barry and is now Radio 4's comedy commissioner, made her admission in Funny Nation, a forthcoming three-part series about Welsh comedy presented by Elis James.
On the documentary, Jones also reveals that she considered setting her follow-up comedy, the Sky One sitcom Stella, in Bristol rather than the Welsh Valleys, as she was worried about being pigeonholed.
'Originally I did think of setting [Stella] in Bristol' she admits. 'Purely because I thought I can't do something in Wales again. You know, people will be going, "Oh well she can only write Welsh stuff."
'But isn't it weird you think like that, because if you look at somebody like Sally Wainwright, all her stuff pretty much is set in Yorkshire, Halifax, the Dales. Kay Mellor, all her stuff pretty much is set in Leeds.
'But for some reason we think you can only have so much Welsh on the telly. I do think that is bonkers when you think about all the dramas that are set in Manchester [and] obviously London. With Wales it's almost like "Oh you can't have too much Welsh" - which is nonsense.'
The first of Funny Nation's 30-minute episodes, due to air on December 9 on BBC One Wales and then made available throughout the UK on iPlayer, focuses on the impact of Welsh stereotypes. Rhod Gilbert suggests that being called a 'sheep shagger' and booed when audiences discovered he was Welsh influenced the combative nature of his early stand-up.
'I was a Welsh bloke walking on stage in pubs and clubs in London,' Gilbert recalls. 'And the moment I walked out and said I'm Welsh or said something with a Welsh accent, usually there was abuse.
'I felt pinned to the back wall. And my strategy was - like a boxer on the ropes - come out and pick people off and soak it all up. And then I would come out and try and get onto the front foot, and come to the front of the stage and go "right I've got you now."
'It's funny, talking about this and talking about coming out on stage - the adrenaline's going, my hackles are up. I'm feeling like that now just talking about it.'
Edinburgh Comedy Award winner Jordan Brookes also tells the show that Gilbert's intensity influenced his own performance style.
The series features Jones's first television appearance in an obscure, one-off sketch show, Except For Viewers In England, which also featured Rob Brydon, and pays tribute to the double-act Ryan and Ronnie, described as 'the Welsh Morecambe and Wise'. Brydon, Noel James and John Sparkes all claim they were inspired to become comedians after seeing Ryan Davies in panto at the Swansea Grand.
Elsewhere, actor Sharon Morgan talks about the frustrations of co-starring in The Magnificent Evans, the 1984 BBC sitcom considered Ronnie Barker's one big flop. And stand-up Mike Bubbins admits that he's watched the same Welsh comedy film, 1978's Grand Slam, featuring Windsor Davies, more than 200 times.
'I got a huge amount from making this series,' Elis James told Chortle. 'I discovered comedians from the past I'd never heard of, and found putting modern Welsh comedy into a historical perspective fascinating. I think this is a golden age for Welsh comedy, but I was certainly guilty of overlooking some of our greats from previous generations.
'Welsh comedy is distinctive. It's very hard to define, but I can feel my sense of humour alter if I'm in a room full of Welsh people. Wales is a country of small towns and villages, and Welsh comics are often quite low status. I think this is rooted in a fear of being seen to be "too big for your boots," and from coming from a place where your nearest Debenhams might be fifty miles away.'
Regardless, the comic believes that Welsh comedy is currently in rude health. 'It's fantastic' he reflects. 'Jordan Brookes has just won the Edinburgh Comedy Award, Rhod has just done a massive tour, Lloyd Langford is Australia's new Queen of Hearts and Kiri Pritchard McLean is doing fantastically well.'
James also highlighted the recent explosion of Welsh language comedy – as he prepares to record a new special in his native tongue at the Lyric Theatre in Carmarthen on Saturday, which will air at Christmas on Welsh channel S4C,
'It reminds me of Welsh language rock and indie about thirty years ago,' he said. A few hardy pioneers have made it far easier for the generation that follows them, and we're now reaping the benefits.'
Funny Nation is produced and directed for Alpha Productions by Iwan England, who previously helmed Elis James's documentaries for BBC Wales and S4C.
Other interviewees include Brydon and comedians Kiri Pritchard-McLean, Max Boyce, Wyn Calvin, Tudur Owen and Owen Money, Hi-de-Hi!'s Ruth Madoc and comedy writers Gareth Gwynn, Boyd Clack and Kirsten Jones.
- by Jay Richardson
Published: 6 Nov 2019
Recent News
What do you think?