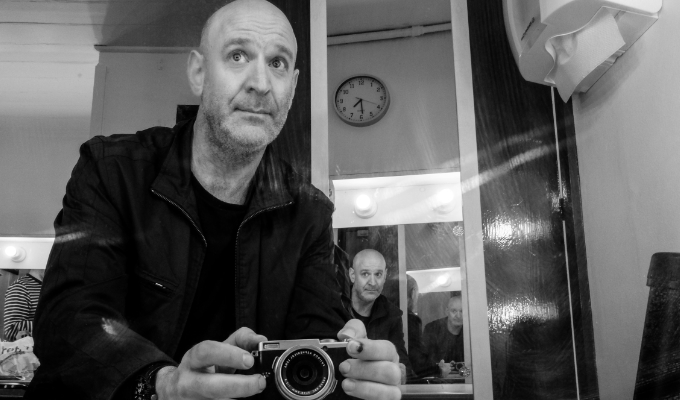 Smile please! High-end book of comedians' portraits to be released
Stand-up-turned photographer Steve Best is to publish a high-end art book of comedians' portraits.
He is currently selecting the hundred or so shots from the thousands he has taken on-stage and backstage over the years.
And his subjects say it is his background as a comic that helps him get the perfect picture.
Harry Hill said: 'No one takes photos of comedians like Steve. Why? Because he knows us, because he's one of us. No one captures the atmosphere backstage like him because no one has the access - to us he's just Steve, and he's got his camera with him again, we stop trying to impress or be funny - no mean feat for a comic - and CLICK! he's got us.'
Zoe Lyons adds: 'It takes a comedian to know a comedian and Steve just instinctively knows how to get the shot. The pictures that capture the joy, laughter and camaraderie of those off-stage moments and what it is to be part of the gang of clowns….'
And David Baddiel said: 'Being a comedian himself, he always knows how to get to the identity behind the face - whether it a be straight, deadpan or funny one.'
Best has previously published the hefty paperbacks Comedy Snapshot and Joker Face, which between them contain almost 1,000 portraits of comics.
The new collectors' book, to be titled simply Comedians, will be published on heavy paper, known as 'board' with a stylish hardback cover.
Best said: 'This project has been so close to my heart for so many years and I now have everything in place to produce a beautiful high-end photographic masterpiece.
'I really do have the best designer and Italian fine art printers on board to make the book look absolutely fabulous.'
He is aiming to have the book ready for release by the end of April, and first editions are currently available for advance order from his website, priced £50.
Here are some of the pictures from his vast archive. Expand to full screen for the best effect.
Published: 22 Feb 2022